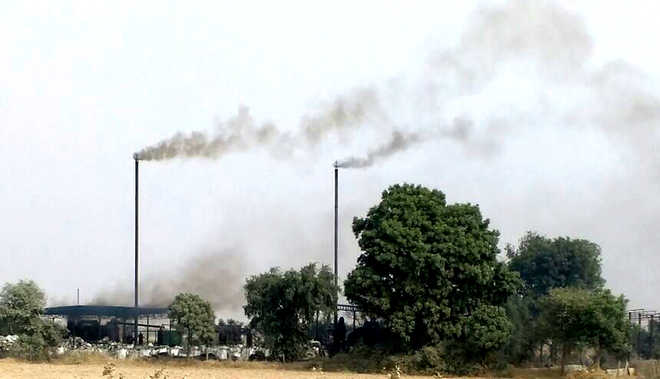 Ravinder Saini
Tribune News Service
Mahendragarh, July 19
The Haryana State Pollution Control Board (HSPCB) has recommended the closure of three tyre pyrolysis oil manufacturing units in Gangutana village and Narnaul in the district. The board has also decided to take similar action against three stone crushers being operated in the Nangal Choudhary area.
During inspection in May, board officials found the units grossly violating mandatory provisions under the Prevention and Control of Pollution Act and Environment Protection Act.
"The officials neither found proper sampling arrangement of stacks nor effluent treatment plants to treat the waste generated from wet scrubber and oil mixed water generated from final oil collection tank. Even, the units did not have proper shed to store carbon black generated as by-product," said sources.
During inspection of the stone crushers, the officials found that sprinklers were not in working conditions, machineries were not covered properly, metal sheets were lying broken, tree plantation was insufficient and no logbook was maintained regarding electricity consumed for operations of sprinklers, premises were dusty and no wetting was done, said the sources.
Even, the crushers did not have air pollution control measures. The officials also collected samples of air emission from the crushers which also failed the test, said the sources.
"After inspection, the pryrolysis units and stone crushers were issued show-cause notices, but all units failed to respond to the notices in stipulated time. Recommendations for closure of the tyre units have been made, while we have decided to take similar action against the stone crushers," said Ravinder Yadav, SDO, HSPCB regional office, Dhaaruhera, Rewari.
What is pyroylsis plant?
A pyroylsis plant produces industrial fuel for furnaces by heating rubber tyres in a reactor in the absence of oxygen. This produces a gas which is condensed and turned into fuel oil. Carbon black is a by-product of this process and is used to make dyes.
Top News
PM Modi calls for maintaining balance between mitigation and...
The decision amounts to creating a parallel jurisdiction, ta...
No suspicious objects have been found yet, say police
During today's games, a generator would be required to power...
'In Punjab, Rs 11 is considered a 'shagun', so I am announci...