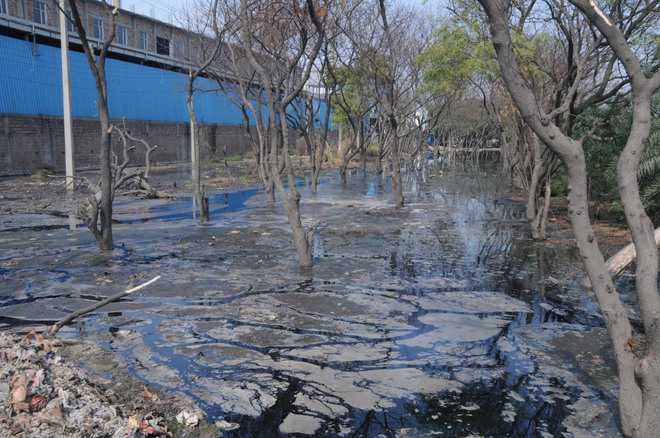 Mukesh Tandon
Tribune News Service
Panipat, October 6
Bhure Lal, Chairman, Environment Pollution Control Authority (EPCA), on Sunday pulled up officials of Haryana State Pollution Control Board (HSPCB), Haryana Shehri Vikas Pradhikaran (HSVP) after he found pollution in the Textile City.
Chairman Bhure Lal on Sunday visited Panipat city to check pollution. He visited Sector-29 part-2 and Sector 25. Balraj Ahlawat, SSE, HSPCB; Sanjeev Budhiraja, RO; Vipin Kumar, SDO, HSPCB; were with him.
He found industrial waste water flowing on the roads of sector-29 part-2 and also found industrial waste water flowing on roads and green belts of the sector, the sources added.
When the chairman went towards Sector 25, he found solid waste burning on roadsides and building material lying openly there, said sources.
Bhure Lal was miffed at the violation of norms and dissatisfied over the working of HSPCB and HSVP officials. He pulled up the officials for their lethargic working and directed them to initiate stringent action against the erring units, the sources added.
He also sought report from the HSPCB over the common effluent treatment plant (CETP) in Sector 29 part-2 within four days. It was his second meeting as he had also visited Panipat city in the wee hours in the last week of September secretly and found black smoke being emitted from industries.
Bhure Lal directed the industrial association to control the pollution and directed them not to use banned fuel in their boilers. He also warned them of stringent action for violating emission norms.
Sanjeev Budhiraja, Regional Officer, said that on the direction of EPCA chairman, we have inspected 43 industries in the past 10 days. Ten of those have been sealed for burning illegal fuel while show-cause notice has been served on 22 industrial units which were found burning illegal fuel in their boilers, operation units without consent to operate and also violating emission norms.
Top News
Jammu and Kashmir Lieutenant Governor Manoj Sinha and politi...
Cops say case cracked within three days with the arrest of a...
Indonesia football association suspends league to investigat...
Samajwadi Party patron is under treatment in Gurugram hospit...
DGP dismisses Mansa CIA Incharge, FIR registered against err...