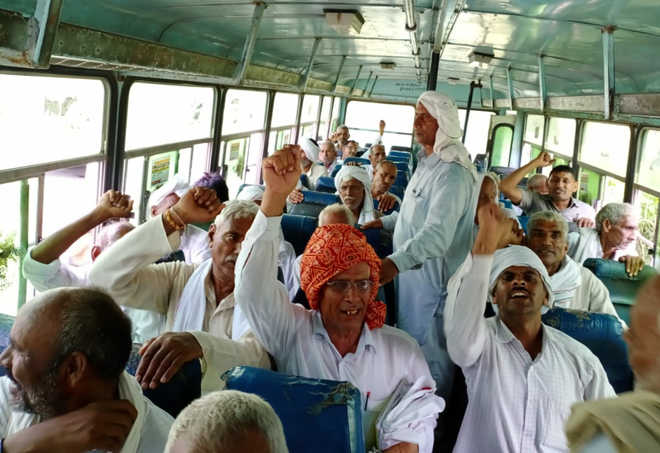 Ravinder Saini
Tribune News Service
Mahendragarh, August 13
Farmers from several villages in the district took out a protest march and courted arrested in Narnaul on Tuesday, demanding enhanced compensation for their land acquired for three national highways. They were released later in the day.
The protesters decided to continue with their dharna till their demand was met. They are demanding compensation on the basis of either the Land Acquisition Act, 2013, or market rates.
The land compensation announced in February and August is in the range of Rs17 lakh and Rs1.72 crore per acre, while the market rates is three times that. The collector rate ranges between Rs7 lakh and Rs70 lakh per acre.
"More than 700 acres in the district have been acquired for constructing the NH-11 (Rewari to Jaisalmer), NH-148 B (Kotputali to Hisar) and NH-152 D (Nangal Choudhary to Ambala). The government has announced compensation two-and-a-half times the collector rates, but the Act bounds the authorities to award compensation four times the collector rates," said Dharamendra Yadav, vice-president, Akhil Bharatiya Kisan Sabha (ABKS), which is spearheading the agitation.
Yadav said farmers had been staging an indefinite dharna on the premises of the Mini-secretariat in Narnaul for the past 31 days and they had met Union Minister Rao Inderjit Singh, PWD Minister Rao Narbir Singh, local MLAs and administrative officers, but none of them paid heed to their plight.
"Farmers have been sitting on a relay fast for the past 11 days, but the authorities are not bothered. The indifferent attitude of public representatives and administrative officers compelled us to court arrest," he said.
Mahendra, district president of the kisan sabha, said farmers had convened a meeting on Wednesday to decide the further course of action.