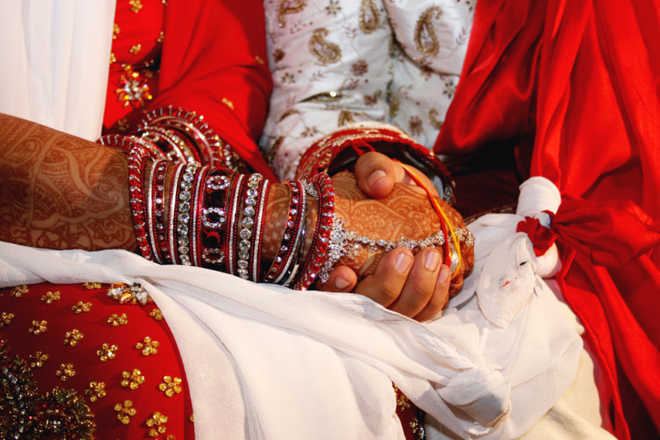 Sumedha Sharma
Tribune News Service
Gurugram, August 20
Unrest and communal tension has gripped Mewat town as a 19-year-old Hindu girl married a 32-year-old Muslim tailor in court and sought police protection.
The family of the girl along with various Hindu outfits have termed it 'love jehad' and started an indefinite
protest seeking action against the accused man and return of the girl to her parents.
The protesters have been alleging the conversion of girl, however, no official confirmation has been received.
The couple, meanwhile, has released a video on social media saying they married each other out of love and consent and would not bow down.
It was on August 14 that Neha, a student of BA second year, went missing from her home.
The family filed a police complaint and accused Akil Khan, a tailor of Chota Sidrawat village, of abducting their daughter with help of his friend.
Controversy brewed when last evening local police received court orders asking it to provide security to the couple.
The news of their marriage spread across villages and brought two communities against each other.
The parents of the girl along with various Hindu outfits and community members took to roads raising slogans against police and even blocked Delhi-Alwar highway.
It took a mild lathi-charge by police to disperse them and they even pelted stones at police.
"Yes we have been asked to provide security and shall surely do it. The situation is peaceful and under control and will continue to be same," said SP Mewat Sangeeta Kalia.
"This is love jehad openly supported by authorities. He is a 32-year-old father of two children who brainwashed her and made her a Muslim and took her away. From day one we begged them to find him and save our daughter but police and other authorities did not care and today she has become a victim," the girl's brother said.
Meanwhile, the couple has released a video where the girl has claimed that she loved Akil and married him with her choice.
The issue has created ripples in Gurugram also as local outfits here under the aegis of Hindu Kranti Dal have threatened a district wide protest if girl is not returned to her parents.
Top News
Former PPCC chief says he would visit Sidhu Moosewala's hous...
Metropolitan Magistrate Sanya Dalal has posted the matter fo...
Bhagwant Mann says it is the eighth toll plaza shut down by ...
Dyal Singh, 35, was killed on the spot
Accused Rahul Talekar has no criminal background and claims ...