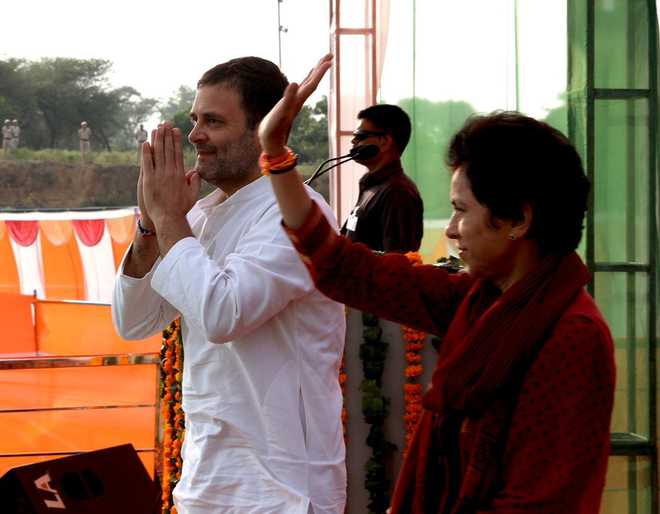 Ravinder Saini
Tribune News Service
Mahendragarh, October 18
Congress leader Rahul Gandhi targeted Prime Minister Narendra Modi in a rally here on Friday saying India is facing the worst unemployment rate and demonetisation has ruined the people.
Gandhi targeted media saying that it is showing the speeches of Modi but it is not raising the issue of unemployment, farmer's plight and inflation. Media is compelled to do so as reporters don't want to lose their job by raising actual issues, he alleged.
He said Congress president Sonia Gandhi has sent him to meet them.
"India is facing worst unemployment rate. Demonetisation has ruined the people," he adds.
Five-six businessmen are owners of big media houses and they are diverting the people's attention from real issues, he said.
Modi government has waived off corporate tax and loan of thousands of crores of several big businessmen but media didn't write a single line.
Gandhi said former PM Manmohan Singh toiled hard to raise the economy rate but Modi ruined it during the past five years.
"Modi doesn't have any knowledge about economy. There is a simple formula to raise the economy rate. The government has to put money in the pocket of unemployment youths to improve the economy," he said.
MNREGA played a crucial role in improving the Indian economy during the Congress regime but the Modi govt is castigating it, he added.
Modi took out money from the pocket of farmers and other sections of the society and has given the money to 14-15 big businessmen, Gandhi said.
Kumari Selja said Sonia Gandhi could not come due to illness. She is suffering from viral fever, she said.
"The BJP government has played the politics of lies during the past five years. Now the people have made up their mind to show it the door in the assembly polls," Selja said.
She targeted the BJP government for alleged illegal mining and extraction of ground water in south Haryana.
"The BJP has nothing to do with the people's plight and it is re-seeking votes while raising those issues which don't pertain to common man," said Selja.
She said the Congress would fulfil all the poll promises on coming to power.
Top Stories