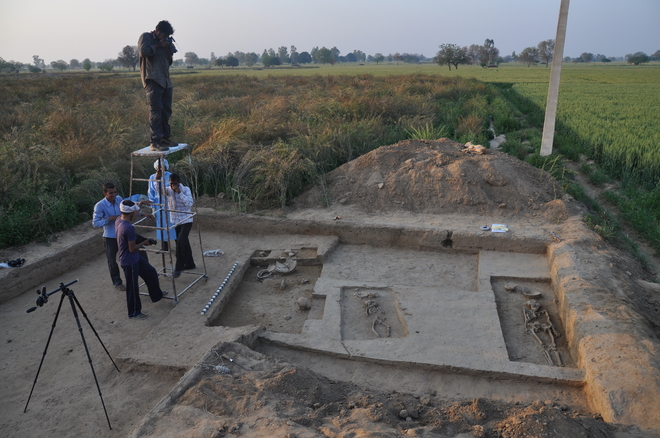 Deepender Deswal
Tribune News Service
Rakhigarhi (Hisar), April 15
Lack of official protection and plunder of treasure troves hidden underneath by unscrupulous elements are playing havoc with the 5,000-year-old ancient archaeological site belonging to the Indus Valley civilisation in the village.
While a good part of the site had been destroyed by soil erosion, encroachments and illegal sand lifting by the farmers is damaging the rest.
Some villagers told TNS that the antiquities being recovered from the site had been sold for the past many years. There are many people in nearby villages who own antiquities, including domestic terracotta items, copper objects, precious stones, beads, shells etc.
Global Heritage Fund (GHF), an international organisation working for protection of endangered sites in the developing world, had also included Rakhigarhi as Asia's 10 most significant archaeological sites facing irreparable loss and destruction.
"It is one of the largest and oldest Indus sites in the world which is facing threat due to development pressures, insufficient management and looting", the GHF report mentions.
Rakhigarhi village is located atop the remains of a Harappan- era site which is spread over 300 hectares. While ASI has protected mound number 1,2,3,5 and parts of 4 but mounds 6,7,8 and 9 are being ploughed by farmers.
Dinesh Singh, son of village sarpanch Rajbir Singh, who takes keen interest in the excavation said almost 80 per cent of mound number 6 – a residential site of Harappan Era and 7 which is a burial site where 4 human skeletons were recovered recently have been destroyed due to cultivation and lifting of soil.
"Though some people recover antiquities while ploughing, but we have been taking care of the site so that nobody destroys it. The ASI has deployed a watchman at the site who has been transferred 2-3 times since he was careless. Some people own the articles but we cannot say they indulge in illegal trade", he said.
However, sources said that tourists are approached by villagers offering to sell antique items. "It has been going on here for past many years. There are gangs which deal in antiques."
Though the setting up of a museum is in the pipeline but it has been delayed due to lack of funds with the state government or the ASI.
Professor Ranbir Shastri, deputy director of the Haryana Archaeology Department said that it's a crime to deal in antique items found in the ancient sites. "But we have not come across any such case and nor anybody complaint to us so far in Rakhigarhi. The state government is in process of setting up a museum," he said.
Top News
Isaac Herzog seeks India's help in release of hostages held ...
TMC MP can be expelled only if the House votes in favour of ...
PM Netanyahu says Hamas did not release all women hostages a...
The decision amounts to creating a parallel jurisdiction, ta...
Prime Minister says Green Credits Initiative surpasses comme...