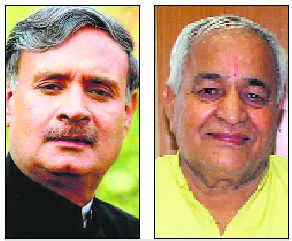 Ravinder Saini
tribune News Service
Rewari, October 9
A war of words has erupted between Union Minister Rao Inderjit Singh and BJP rebel Randhir Singh Kaprivaas, who is contesting the Assembly elections as an Independent candidate from Rewari.
Kaprivaas, in his poll meetings, has been blaming Rao Inderjit for the denial of ticket to him. Rao Inderjit, for his part, is hitting back by saying that Kaprivaas has got frustrated and, hence, he is talking about "real" and "fake" BJP.
"It's a contest between a royal family and a farmer's son. Rao Inderjit is an egoist leader. He has got the BJP ticket for his loyalist Sunil Yadav Musepar (from Rewari) to serve his vested interests. Voters will show him (Rao Inderjit) his place on October 21," said Kaprivaas in a poll meeting on Wednesday.
He claimed the BJP replaced him with a candidate who would forfeit his security deposit, as no one knew about him in the constituency.
Kaprivaas asked people to make an informed choice on October 21. "Who is better for the constituency — a leader who spent five years in the constituency and worked for its development or a man who doesn't even know the name of colonies and villages of Rewari district? The call is yours."
Kaprivaas also questioned Rao Inderjit's loyalty towards the BJP.
Rao Inderjit, while addressing poll meetings here, said he had sought ticket for his daughter Aarti Rao in the 2014 Assembly elections, but the BJP had fielded Kaprivaas. "In spite of that, my daughter and I canvassed for Kaprivaas. As he has been denied the ticket this time, he has started raising an illogical issue of 'real' and 'fake' BJP."
He further said, "This time too, I sought ticket for Aarti, but the party decided to field Sunil Yadav. As a true soldier of the party, I am seeking votes for him. I want to make it clear that the party with an election symbol lotus is the real BJP. Those opposing the party candidate cannot be the well-wishers of the BJP."
On Kaprivaas's loyalty remark, the Union Minister said he would remain in the BJP till his last breath.
Caption: Rao Inderjit and Randhir Singh Kaprivaas