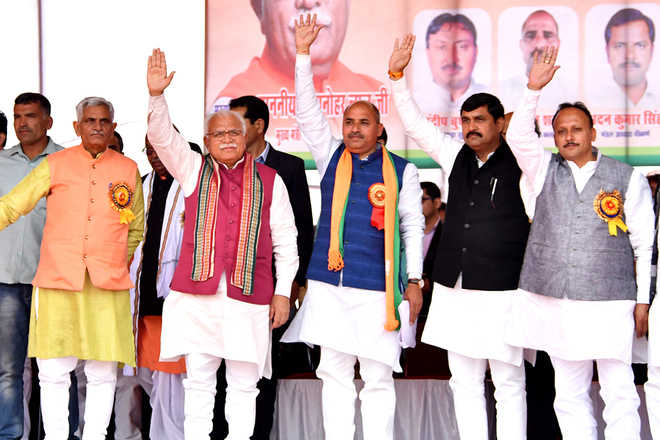 Tribune News Service
Rohtak, February 10
Chief Minister Manohar Lal Khattar has exhorted the voters of the Rohtak parliamentary constituency to replicate the result of the Jind bypoll in Rohtak for the Lok Sabha seat.
He launched a scathing attack on former Chief Minister Bhupinder Singh Hooda and Congress MP from Rohtak Deepender Singh Hooda while addressing a 'jan vishwas' rally in Kalanaur township here on Sunday.
"The son of a private company is the MP from Rohtak. Earlier, his father was an MP. When the father became the Chief Minister, the son became MP. Now, the father is not the Chief Minister and the decision is in the hands of the people," said Khattar.
The Chief Minister asked the people to teach a befitting lesson to those who had incited clashes between members of different castes in Rohtak to further their vested interests.
He pointed out that the state power corporations, which were in losses of Rs27,000 crore when the Bharatiya Janata Party (BJP) government took over, were now in profit even as the power tariff had been reduced considerably. He said if all residents of villages in the state availed the benefit of the government scheme, the power tariff would be reduced further.
The Chief Minister okayed various development projects for the Kalanaur Assembly constituency, involving an expenditure of Rs224 crore.