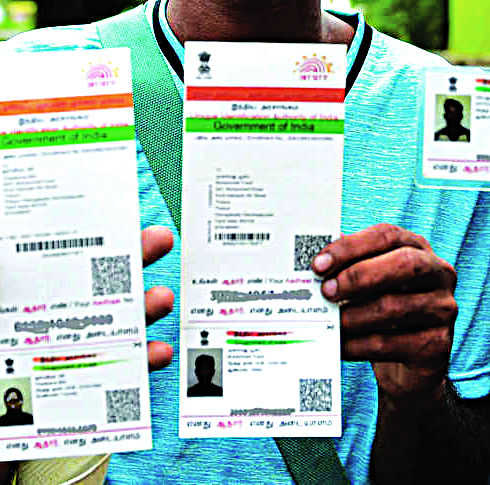 Bhartesh Singh Thakur
Tribune News Service
Chandigarh, April 5
Four officials of Haryana's Welfare of Scheduled Castes and Backward Classes Department have been suspended for allegedly embezzling Rs 3.53 crore meant for post-matric scholarships (PMS) to SC/BC students. The embezzlement was effected by changing the Aadhaar numbers of beneficiaries and transferring the money into forged Aadhaar-linked accounts.
The PMS is given to SC/BC students studying in educational institutes located both within the state and outside.
Department Director Sanjeev Verma has suspended assistants Ramdhari and Bilender Kumar, accountant-cum-clerk Surender Kumar and clerk Sanjeev Kumar after an inquiry report submitted by a committee led by department's Chief Accounts Officer indicted the four.
He has also recommended strict action against two senior officials — Deputy Director-cum-DDO Anil Kumar and Deputy Director (Training) RS Sangwan, who is re-employed after retirement.
"I have sent the report to the government for appropriate action," said Verma. The department had received two recommendations from the District Welfare Officer (DWO), Sonipat, regarding alleged irregularities in the disbursal of PMS.
The first involved payment of Rs 1.71 crore for 170 students on February 13, and second of Rs 1.81 crore for 182 students on February 19. The treasury had passed the bill on March 8 for Rs 3.53 crore.
When the fraud came to light, Verma formed a four-member inquiry committee on March 28. The committee held that the names of the institutes and courses, and students' Aadhaar numbers were changed, while names of 170 students and their fathers remained the same.
Interestingly, a large number of candidates were shown having the same numbers. For instance, mobile number *****42438 had 28 names against it, *****37396 had 44 and *****85237 24 names against it. Again, in case of 182 students, for whom Rs 1.81 crore was sanctioned, it was found that Aadhaar numbers had been changed.
The inquiry report pointed out that those involved in this fraudulent act were well aware of the system. While the process up to the sanction and passing of the bill by the treasury was duly followed, forgery took place during the preparation of the list that was forwarded to the bank for payment.
Funds are not transferred if the Aadhaar number is incorrect, incomplete, doesn't exist or not linked with a bank. In this case, the Aadhaar numbers mentioned existed and were linked with banks.
The complicity of educational institutes involved and possibility of fraud at DWO level has not been ruled out.
A vigilance probe and a special audit by the Accountant General (Audit), Haryana, has been recommended as Rs 236 crore has been disbursed under PMS in the past three years. Neerja Shekhar, Principal Secretary, said, "Irregularities have been found and we are looking into these. We will take strict action."
How forgery was committed
Forgery took place during preparation of beneficiary list forwarded to bank for payment of post-matric scholarship
Probe report says names of students and fathers were kept same, but institutes, courses, Aadhaar numbers changed
Multiple students were shown holding same phone numbers, which were forged and linked with Aadhaar