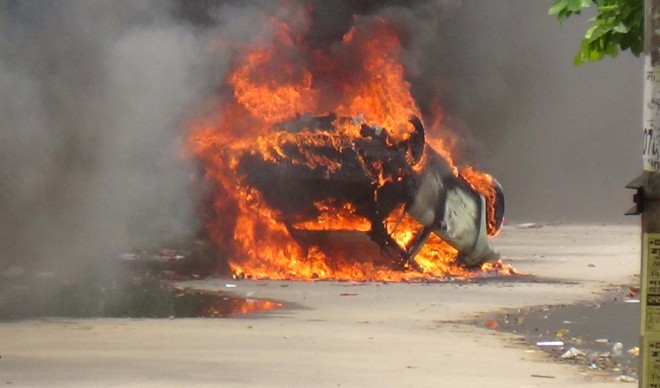 Sumedha Sharma
Tribune News Service
Gurgaon, June 20
Workers turned violent at a garment factory here today following rumours of a worker's death, leading to arson and rioting which left a few workers injured, police said.
Fear and panic gripped Sector 37 of Udyog Vihar area of Gurgaon as workers at one of the units of Orient Craft went on a rampage and vandalised four units, setting a dozen cars and motorbikes on fire and smashing window panes.
The arson was provoked after rumours spread among factory workers that a fellow worker Pawan Kumar, who was injured due to an electric shock on Friday evening, had died at the hospital. Soon, another rumour spread that four workers of the factory were trapped in a lift and were burnt alive.
Infuriated workers came out of the factory raising slogans against the management for negligence and indifference. The local police reached the spot and tried to pacify the workers, but to no avail as they continued burning vehicles.
Both the rumours were false. Gurgaon police commissioner Navdeep Singh Virk said, "Today at about 10 am police station Kherki Daula received information about workers unrest in one of the units of Orient craft in sector 37 Gurgaon. He said police reached the spot and tried to pacify the workers."
"Workers turned violent, but before the police reinforcement could reach the spot, miscreants set six cars and four motorcycles on fire," Virk said.
"Miscreants also broke glasses outside the building and tried to set on fire the various inflammable material stored in the factory premises. As police reinforcements reached, the situation was brought under control," he added.
"I reached the site and conducted a flag march with about 200 police personnel. There has been no reported casualty," the commissioner said in a statement.
"Keeping in view the past history of workers unrest in the factory the damage was contained in a minimum possible manner. Gurgaon police reacted swiftly to defuse the situation," he added. "Strong police presence will be maintained for the next few weeks to ensure peace in the area," he added.
Around eight workers have been booked so far for arson and rioting. It may be noted that a similar situation had rocked the area in February, when over 100 workers of a garment factory went on a rampage, following the rumour that a co-worker had died after a scuffle with the security guard.
Top News
The accused, identified as 20-year-old Sahil, arrested from ...
The 16-year-old girl was stabbed to death allegedly by her b...
This comes a day after the Delhi Police clear the sit-in sit...
Very proud moment for me and our family, as a son of an army...