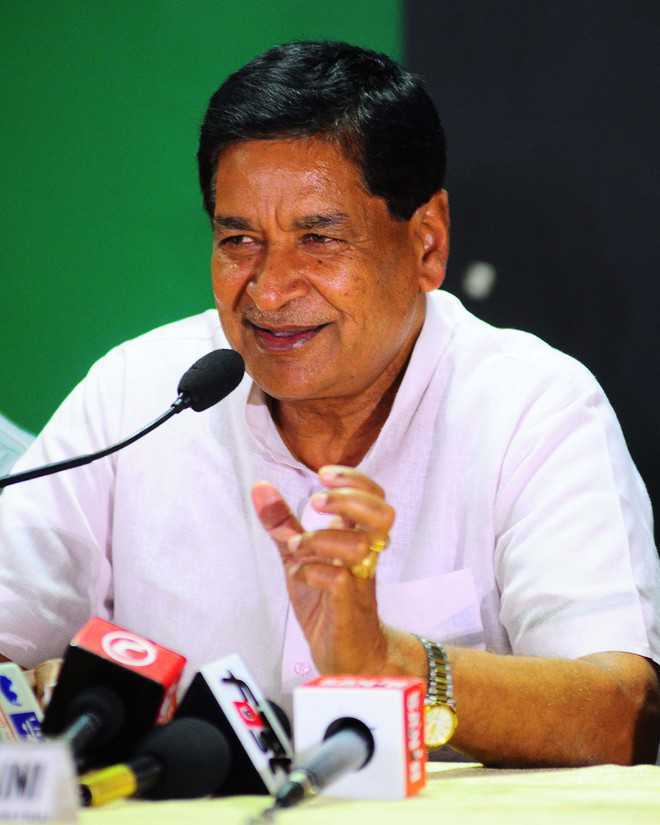 shil Manav
Tribune News Service
Chandigarh, February 10
Raj Kumar Saini, rebel BJP MP from Kurukshetra and convener of the Loktantra Suraksha Party (LSP), on Sunday initiated a move to join hands with the Haryana Janchetna Party (HJP) led by former Union Minister Venod Sharma.
Saini met Sharma at his residence and asked him to explore the possibilities of joining the LSP-BSP alliance for the upcoming parliamentary and Assembly elections.
Saini confirmed the meeting, but refused to divulge details of their talks. He said he was trying to bring all like-minded people together on one platform.
"The Jind bypoll has shown that people who have been ignored by those who remained in power for more years than others after Haryana came into being are willing to come together to assert their political rights. I am working in the direction of bringing all those who work for the oppressed," he said.
Sharma described the meeting as a courtesy call by Saini and maintained that politics was not discussed. Asked about his plans are for the upcoming parliamentary and Assembly elections, he said he would reveal his plans at an appropriate time.
A former Congress leader, Venod Sharma was Union minister in PV Narasimha Rao Cabinet and served as Cabinet minister in Haryana when Bhupinder Singh Hooda was the Chief Minister.
During his stint as Haryana minister, he was instrumental in getting 10 per cent quota for economically weaker sections among upper-caste Brahmins, Punjabis, Agarwals and Thakurs and bringing a law for vesting ownership rights to 'dholidaars' and 'butimaars'.
Before the 2014 Assembly elections, Sharma parted ways with the Congress and launched the HJP. The party failed to win any seat in 2014.
Saini had been in focus ever since his candidate Vinod Ashri polled 13,582 votes in the Jind bypoll.