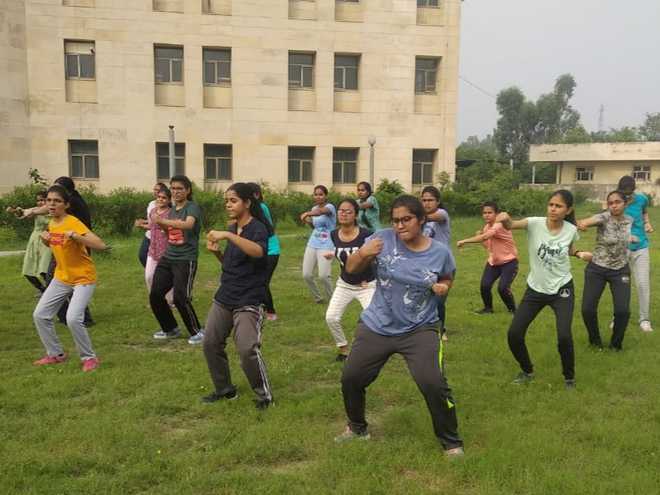 Sonepat: Self-defence training is part of a month-long foundation course being conducted at the BPS Government Women Medical College at Khanpur Kalan for first-year students of MBBS before commencing the academic classes. Dr Renu Garg, Director of the college, said that under the direction of the Medical Council of India, the foundation course is aimed to bring about personality development as well as strengthening of their language, computer knowledge, sports skills etc.
Workshop on vertical gardens
Hisar: The Department of Environmental Science and Engineering and Office of Public Outreach, Guru Jambheshwar University of Science and Technology, Hisar, organised a workshop 'Hands-on training workshop on creating vertical gardens'. Prof SC Goyal, adviser to Vice-Chancellor, was the chief guest at the inaugural function. Prof Goyal shared his experiences in gardening and said, "We can maintain 5°C less temperature of our home through vertical gardening." Dr Govind Singh delivered a lecture on 'How to create vertical gardens'. Madhvi Jain of Delhi Green demonstrated some methods to prepare compost at home.
Sapling planted in martyr's memory
Kurukshetra: A team from Chandigarh-based NGO Ek Ped, Shaheed ke Naam team visited Maharana Pratap Senior Secondary School, Kurukshetra. In the presence of members of the Veteran Air Warrior Association, Kurukshetra, other ex-servicemen, the staff members and students planted a sapling on the school premises in the memory of martyred soldier Rajinder Singh (Rajput regiment). The Principal, staff members and students pledged to look after the plant.
Poster-making competition held
Faridabad: DAV Centenary College, Faridabad, held a poster-making competition on the subject 'Gender equality on the college campus' in which as many as 50 students took part. The theme of the competition was to encourage social activities that promote gender equality, said Dr Satish Ahuja, Principal of the college. Prizes were given to the top three ranked entries in this competition.
Students watch state-level event
Yamunanagar: A state-level youth programme 'Nav Tarang--Shaheedon ko Naman' was held in Charkhi Dadri district of Haryana. The chief guest of the programme was Haryana Chief Minister Manohar Lal Khattar. Dr Rachna Soni, head of the department of Computer Science of DAV College for Girls, Yamunanagar, said that students and staff members of the college watched the live telecast of the programme at their college. She said that the programme was held with the aim of motivating the youth of the state to serve the country. "It was a motivational programme for the youth and such programmes should be held in the future also," said Dr Rachna.
Top News
She is administered the oath of office on Tuesday morning
AAP and Bharat Rashtra Samithi, however, say no to discussio...
Soon after the House meets at noon after the first adjournme...
A man who was in the court to attend a hearing attacked alle...
The three artistes -- Adam Berry, Gurujas and Harijiwan -- a...