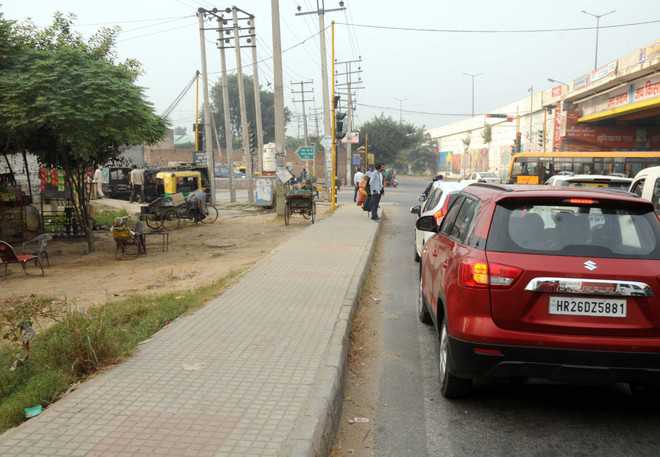 Tribune News Service
Karnal, November 14
The Karnal Municipal Corporation is going to construct a slipway at the ITI chowk for the vehicular traffic to enter the city from Delhi. Presently, the slipways are at both the sides of Government College Chowk and Nirmal Kutiya Chowk, but the ITI Chowk lacking it is a cause of inconvenience to the commuters.
As per the authorities, it will save the time of the commuters, entering into the city, as they won't have to wait at traffic lights.
The issue related to the construction of the slipway had been raised constantly at the meetings of the district road safety committee. The residents of the city had also highlighted the demand with the district authorities.
Earlier, the National Highway Authority of India (NHAI) was supposed to take up the project, but, as per the authorities, due to urgent need of the residents, the KMC decided to construct it.
"Keeping in view the constant demand of the residents as well as the members of district road safety committee, we have decided to construct the slipway on one side of the ITI Chowk for the commuters who enter the city from Delhi. We have allotted tenders to a Delhi based company which will construct it for Rs3.69 lakh in two months," said Nishant Kumar Yadav, Commissioner, KMC.
It is a major road of the city and part of the National Highway 709A, so this is being initiated to provide facility to the commuters, he added.
With this step, the residents are also elated. "We have raised this issue with the authorities for the past several years. We are thankful to the KMC for initiating the step of constructing slipway at the ITI Chowk," said Malak Singh, a resident.
The commissioner told that a service lane had also been constructed by the KMC at the cost of Rs36 lakh between Maharaja Agrasen Chowk and Mahatma Gandhi Chowk along with Kalpana Chawla Government Medical College to reduce the traffic burden on the main road.