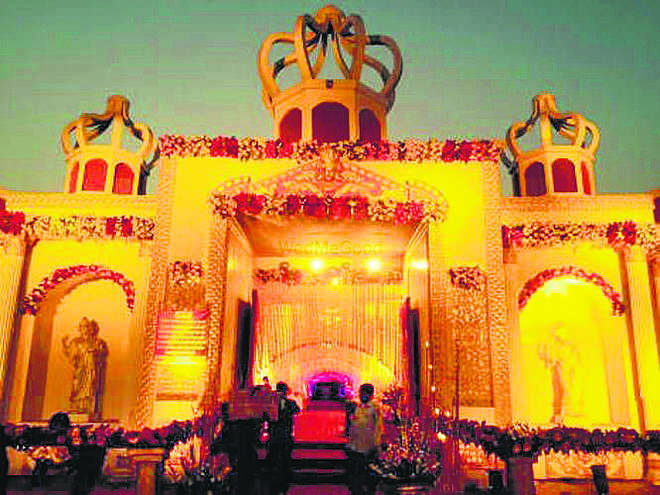 Sumedha Sharma
Tribune News Service
Gurugram, November 11
Hit by the ongoing economic slump, the words "big and fat" appear to have been shed from weddings in Gurugram this season. The current scenario speaks of shorter guest lists, fewer wedding functions, virtually nonexistent receptions, compact menus, cut in imported liquor and minimalist designer trousseau.
Gurugram, once a wedding destination with country's premium hotels and an envious array of marriage venues, is witnessing an all-time fall in the spendings on celebratory functions.
In contrast to the earlier extravagant shows, the October-December wedding season this time appears to be dull and lacklustre, says the owner of a wedding palace.
"We had emerged as a reasonable alternative to Rajasthan for destination weddings, but this year a majority of the resorts in the Manesar area have failed to get even one booking. We spent months readying our banquet halls inspired by Bollywood films, but haven't got any customers. We have now started letting out halls for conferences," said Ranjeet Kapadia, co-owner of a premium Manesar resort.
"We never did small weddings, say for less than 2,000 guests, but this season we have not heard of any wedding in Gurugram that has crossed 400 guests. Now we have started letting out our lawns in portions for smaller gatherings," says Sukhdeep Singh of a resort on the Bajghera road.
The slowdown is also evident in the drop in the cost of food plate. The average cost at a decent venue or hall in Gurugram ranged from Rs 2,200 to Rs 7,000 per plate but now it lies between Rs 1,500 and Rs 4,000.
Industry experts attribute the relatively low-key celebrations to the slowdown. Costly liquor, exotic cuisines and special band performances are all a thing of the past this season.
"We would have a packed calendar every season but haven't done a single performance this year. We come to the NCR from Goa during the wedding season," says Mainioa, a Spanish national.
---
Big affair, no more
The average cost per plate drops from Rs 2,200-Rs 7,000 to Rs 1,500 and Rs 4,000
Over 50 venues haven't got even a single booking
In high-end resorts, average guest count down to 400 from over 2,000
Top News
Congress MLAs taken out before the CM brings in the confiden...
The Congress stages a protest outside the House before sitti...
Sidesteps Indian concern over first arms package to Pakistan...
The 79-year-old actor is considered one of the most influent...