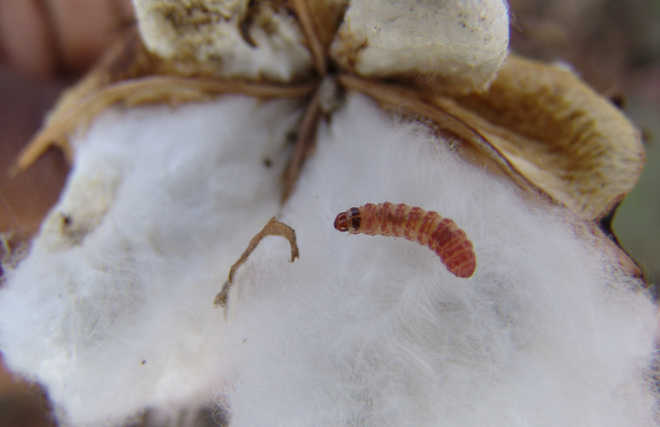 Sushil Manav
Tribune News Service
Chandigarh, June 19
Scientists of the Central Institute for Cotton Research (CICR) have sounded an alert for the possibility of an attack of pink bollworm on Bt cotton in Haryana this year in view of the detection of the worm last year in a village in Jind district.
The cotton scientists have maintained that though there is nothing to be scared of as yet, precaution must be taken to pre-empt the attack of pink bollworm, which caused huge damage to crops in Maharashtra, Andhra Pradesh, Telangana, Karnataka and Madhya Pradesh during the last two years.
The CICR, which conducted a study on the larvae of the pink bollworm detected in Palwan village of Jind district, has concluded that the pest came from central or South India due to transportation of cotton seed from there by cotton ginners and oil extraction units.
"A feedback was received from Palwan (Jind) regarding pink bollworm infestation. The incidence of pink bollworm was mainly confined around cotton ginning-cum-oil extraction unit situated in front of the infested field location. The incidence persisted up to 1 km radius only and after that it became almost negligible. During interaction with some of the ginning and oil extraction mills owners, it was brought to our notice that to keep the mills in operation round the year and to earn better profit some of the ginners are procuring or purchasing cotton seeds from the central and south Indian states, especially Gujarat, Andhra Pradesh and Telangana," said Dr Dilip Monga, head of the Northern CICR regional station at Sirsa.
The CICR scientists collected the surviving larvae from Palwan village and sent them to Nagpur for testing which confirmed that these were akin to the pink bollworm larvae found in the central and South India.
"We have alerted Chaudhary Charan Singh Haryana Agriculture University, Agriculture and Farmers' Welfare Department, Haryana, and other stakeholders and we will be working in coordination with them to pre-empt the attack," said Dr Monga.
During 2017-18 there was an epidemic-level pink bollworm infestation in cotton growing states of central and South India. The infestation ranged between 8% and 92% .
---
Plan to tackle pest
Among the measures the Central Institute for Cotton Research has planned to prevent the possible attack are setting up of pheromone traps to lure the male moths, farmers' training and sensitisation of oil extraction units so that they should take the precaution that cotton seed brought by them from outside does not become the reason for the spread of the infestation.
American bollworm scare earlier
Before Bt cotton was introduced in Haryana as well as in other northern states in 2005-06, American bollworm used to cause extensive damage to cotton crop year after year with the pest assuming epidemic form in 2001 and reducing the crop production to almost half that year.
However, the introduction of Bt cotton has improved the production, but last year's incident of pink bollworm in Jind has caused a scare among farmers and farm scientists.
Top News
Lhonak lake breaches banks after cloudburst, triggering mass...
About unifying the Armed Forces: A theatre command entails h...
Third party leader to be arrested | BJP says Kejriwal 'real ...
Slams arbitrary exercise of powers under PMLA