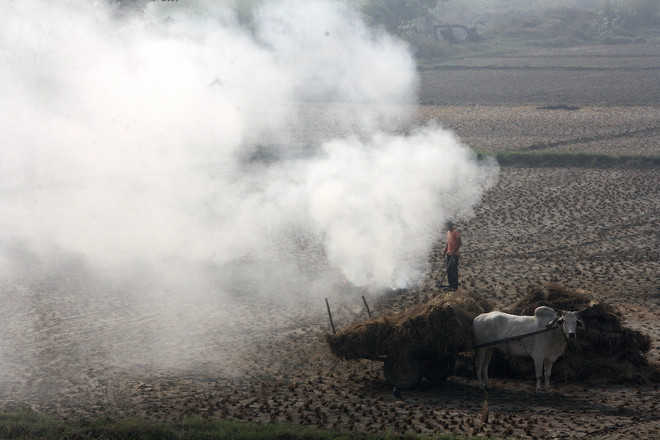 Deepender Deswal
Tribune News Service
Hisar, November 6
Incidents of stubble burning have gone up in the region with the harvesting season of paddy coming to an end in Sirsa, Fatehabad and Hisar districts in the state.
Satellite data recorded the highest number of 645 active fire points in the state on Sunday, of which a majority were registered in Fatehabad, Sirsa, Kaithal and Jind districts.
The Haryana Space Applications Centre at Chaudhary Charan Singh Haryana Agricultural University here revealed that paddy stubble was burnt on around 1.3 lakh hectares this current harvesting season.
Chief scientist RS Hooda said the satellite image had captured around 8,000 fire points across the state. "There is no change compared to the previous year on a daily basis. It can aggravate as the harvesting season is picking up," he said.
A pollution board official said they had observed that suspended particulate matter level of air had gone up to around 203.6 points, which was more than double than normal, on October 30 and 31. "Given the prevailing air quality, it can cross 300 points," he said.
Prof Narsi R Bishnoi of the department of environmental science and engineering at Guru Jambheshwar University of Science and Technology here said the situation had deteriorated from last year.
"Things will improve only after farmers are provided an alternative to burning stubble to clear their land for cultivation. The government needs to step in to help farmers in straw management to save the environment before the situation deteriorates further," he stated.
The sudden fall in temperature and smoke from fields had caused smog, which would dissipate with strong winds, he commented.
Since wind speed was around 1.2 km per hour in the region, the smog was likely to stay in the region for the next couple of days, he added.
Top News
Addressing a rally in Baramulla, Shah asks whether terrorism...
Development in Himachal possible as people voted BJP to powe...
The Ministry of Defence spokesperson from Tezpur says the mi...
45-50 people, including women and children, were on the bus
Reason for the crime not yet known