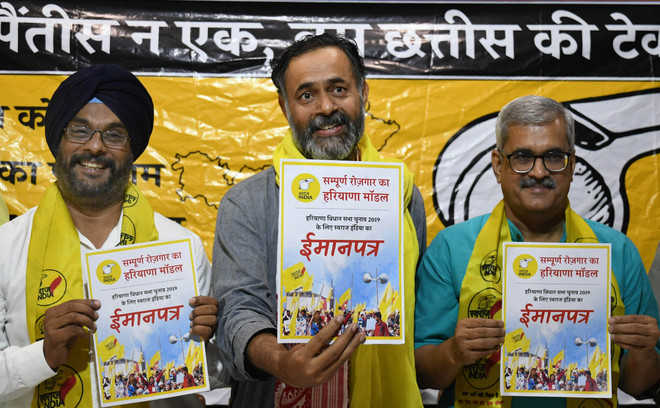 Tribune News Service
Chandigarh, October 5
The Swaraj India manifesto, 'Imaan Patra', has presented a model of generating over 20 lakh jobs at a cost of Rs20,000 crore. The party is contesting on 28 seats.
Swaraj India president Yogendra Yadav said, "Our Haryana model will have seven missions — 'Aarambh', 'Kayakalp', 'Anndata', 'Jal-Jungle', 'Nagar Swaraj', 'Har Haath Ko Kaam' and 'Yogdaan'.
The party says under 'Aarambh', every child in the age group of three to six years will first study in anganwadi and then from six to eight he would go to nursery. "It will generate 73,000 jobs of nursery teachers and education associates at anganwadis, said Yadav.
Decreasing liquor consumption in villages is on the agenda of the party. The manifesto calls for having 5,700 health sub centres, 950 primary health centres, 238 community health centres as per norms. Yadav said under 'Kayakalp', 10,000 ANMs, 10,000 support staff and over 2,000 doctors would be recruited.
The party promises to renovate 10,000 village ponds, taking measures for water harvesting and saving forests under 'Jal-Jungle'.
Under 'Anndata', the party promises to set up a debt relief commission on the lines of Kerala and raising the average annual farmers' income from Rs2 lakh to Rs5 lakh.
Mission 'Nagar Swaraj' will strengthen all 84 local bodies in the state with adequate funds, increase the fleet of the Haryana Roadways buses from 4,000 to 8,000 and construct four lakh houses for the poor. "About 1,000 buses will be used within cities," said Yadav.
Candidate defects to LSP
Swaraj India's Ambala Cantonment candidate Shailendar Kumar defected to Raj Kumar Saini's Loktantra Suraksha Party (LSP) at the eleventh hour. The party had announced Kumar's candidacy at a press conference and had introduced him as someone who was providing education to slum kids.
Top News
Attacker identified as ex-policeman dismissed last year, had...
The victim family, from Hoshiarpur in Punjab, was kidnapped ...
Jasdeep and Amandeep Singh came out with their hands zip-tie...
WHO has warned that Maiden cough syrup could be linked to th...
None of the four products mentioned by WHO in an alert are m...