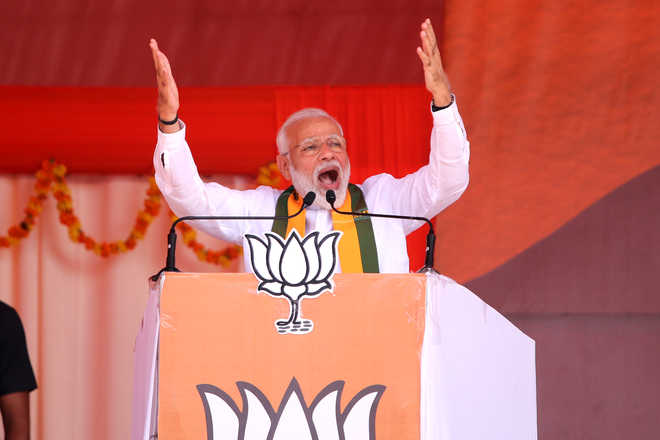 Deepender Deswal
Tribune News Service
Mallekan (Sirsa), October 19
On the last day of campaigning for the Haryana Assembly elections, Prime Minister Narendra Modi today targeted the Congress over Kartarpur corridor and Article 370, accusing it of "destroying the country" with wrong policies and strategy.
Addressing a rally at Mallekan village in Ellenabad constituency of Sirsa, PM Modi said while the corridor was ready, the previous governments at the Centre failed to fulfil the aspirations of the people.
"The Kartarpur corridor is almost complete. This opportunity has come seven decades after Independence/ What can be a bigger misfortune than this? We had to see the holy place from afar, through binoculars." "Why did those responsible for the Partition never come across the idea that devotees should not be separated from their centre of faith located just 4 km away?" he said. The PM alleged the Congress never honoured faith, tradition and culture of the people. The PM blamed the Congress for complicating the J&K issue, saying no honest effort was made for a meaningful solution. "The Congress let a few families indulge in loot. The regions of Jammu, Ladakh and Kargil were discriminated against and fault lines were drawn to push society towards disintegration. A conspiracy was hatched to unleash atrocities on four lakh Kashmiri Pandits as their daughters were raped and they were forced to migrate."
Vowing to launch a fight against drugs, the PM said the country's enemy had been trying to destroy youth by sneaking in contraband from across the border. 'Chitta' has become a poll issue in the district. Attacking the Chautalas, Modi said: "Those who deem Sirsa as their fort are fighting among themselves over distribution of property amassed through corrupt means… They are banking on legacy, but we have development schemes along with legacy." INLD's Abhay Singh Chautala is contesting the seat, from where the BJP has fielded Pawan Beniwal.
Top Stories