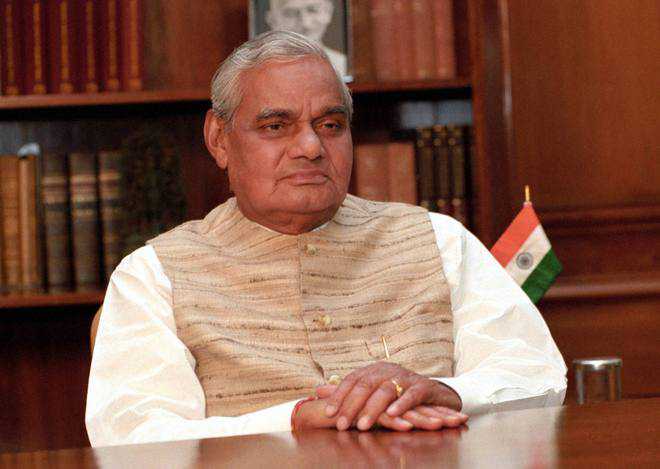 Pradeep Sharma
Tribune News Service
Chandigarh, August 16
Former Prime Minister Atal Bihari Vajpayee will be remembered as a man who gave Haryana at least two mega projects which would have bearing on the lives of people of the region for generations to come.
The mega projects — Kundli-Manesar-Palwal (KMP) Expressway and the world's largest petrochemical project at Panipat — were conceived during the NDA-1 regime when Vajpayee was the Prime Minister.
Besides, Vajpayee had special liking for Haryanavi delicacies so much that he made a special mention of Panipat's delicious "malai puda" when he laid the foundation stone of the world's largest petrochemical project at the Panipat Refinery on October 18, 2003.
The Western Peripheral Expressway (KMP) and the Eastern Peripheral Expressway (Kundli-Ghaziabad-Palwal Expressway), both spanning 135 km each and intended to decongest Delhi, were first proposed during Vajpayee's tenure. While Eastern Peripheral Expressway was inaugurated by Prime Minister Narendra Modi recently, the Kundli-Manesar section of the Western Peripheral Highway is set to be completed soon.
Sanjay Bhatia, senior Haryana BJP leader, who was the president of the MC, Panipat, in 2003, remembers that Vajpayee was a regular visitor to the house of veteran RSS leader late Pyare Lal Saraf and both used to relish "malai puda" at the Halwai Hatta locality of Panipat. Besides, Gohana's famous "jaleb" was one of the delicacies Vajpayee enjoyed.
In fact, Kurukshetra also has the rare distinction being the venue of the release of a research-based book on Vajpayee by Pritam Singh by Haryana Governor Kaptan Singh Solanki on his birthday, December 25, 2014.
Vajpayee had the dubious distinction of losing to Congress leader Subhadra Joshi in the 1962 Lok Sabha elections from his stronghold Balrampur. A Delhi resident, Joshi had been the MP from Karnal (1952) and Ambala (1957).
Guv, CM mourn death
Governor Kaptan Singh Solanki, mourning Vajpayee's death, said: "We have lost a great patriot, liberal thinker, farsighted politician and a leader of masses."
Chief Minister Manohar Lal Khattar said the poet-cum-journalist-turned two-time Prime Minister and Parliamentarian of rare attributes and faculties bestrode the political scene in the country like a colossus, commanding the respect of even those across the political spectrum.
Top News
Shah appeals for surrender of arms, says dialogue only way f...
PM flags off cargo train from Bihar to Nepal
Mahapanchayat in Kurukshetra today to chalk out future cours...
2nd science topic to be removed by NCERT after Darwin's theo...