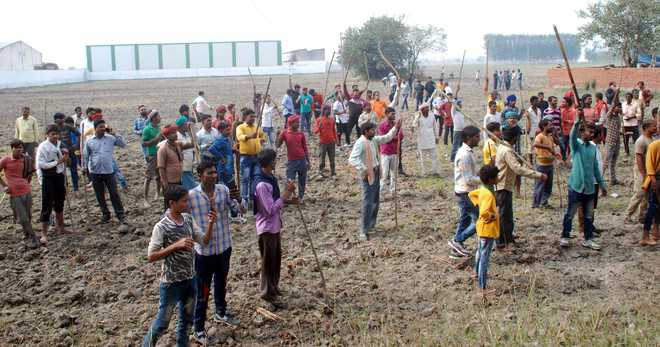 Tribune News Service
Karnal, November 13
The district administration and residents of Daha Madanpur village of Karnal came face to face after the administration reached the village to take possession of a 35-acre land on Wednesday.
The villagers marked their resentment with sticks in their hands. A large number of women and children sat on dharna and threatened the administration with dire consequences if the administration attempted to take possession forcefully.
As per the information available, dozens of families have been living there for years and cultivating the land. There are three rice mills in operation too.
The administration team went back without taking possession after the villagers requested for some more time.
The villagers set tyres on fire to block roads of the village and threatened that the administration would be responsible if any untoward incident took place.
Budhram, a villager, said, "In 1967, the surplus land was allotted to us and we have all the required documents, including the mutation and registration documents. But now, we have been told that the land was given wrongly and it is to be given to its original owner. Our families have worked hard and made this land fertile over the past 50 years. We have been cultivating the land for years. Where we will go with our families?"
JJP leader Umed Singh and Vinod Goyal, president of rice millers association Karnal, also reached the spot to support the villagers and rice millers.
Rajesh Goyal, a rice mill owner, said, "There are three rice mills in operation and over 50 families are living here for years. We all have ownership rights and we have not been given adequate time to defend ourselves." They claimed that the land was allotted by the government and it was the government's fault.
The millers said that a petition has been filed in the High Court. The matter is being heard and they must be given some time.
Later, the administration team and a group of villagers reached Madhuban police station to discuss the issue.
Tehsildar Ravinder Kumar, who was present as the duty magistrate, said, "We had reached the village to take possession of the land as per the orders given by the High Court. But the villagers didn't allow us to do so. In order to ensure that the law and order situation is not disturbed, a discussion was held with the people. They have sought a couple of days for the compliance of the court's orders. Meanwhile, the affected party has also approached the High Court."