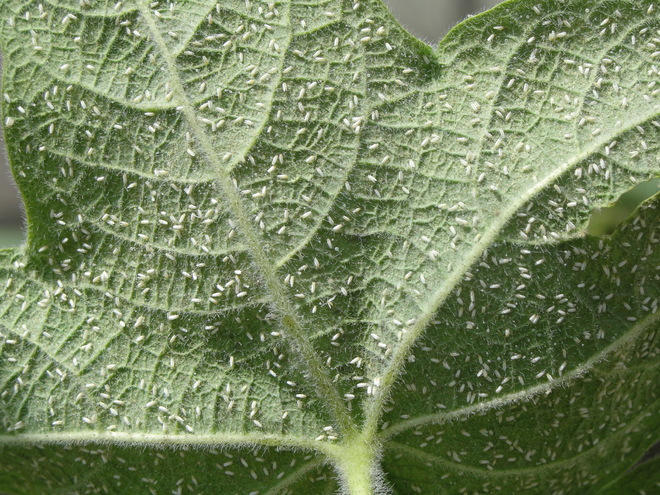 Sushil Manav
Tribune News Service
Sirsa, July 23
Cotton farmers in the district are a worried lot as whiteflies have attacked their crop early this year. The district contributes more than one third to the total production of cotton in Haryana.
Though the pest, which is responsible for sucking sap from cotton plants and acts as vector to leaf curl virus, comes almost every year, it has come early this year. "The early onset of the infestation and its severity has left the farmers in distress," said Gurjeet Singh Mann, a farmer in Kirpal Patti village of Sirsa.
Central Institute of Cotton Research (CICR) principal scientist Dr Dalip Monga said the attack was widespread in the entire northern region this time. "We have observed incidents of whitefly attacks in Bhiwani, Hisar, Fatehabad, Sirsa and other parts of Haryana, besides Bathinda, Firozepur and other cotton-producing districts of Punjab," said Dr Monga.
In Sirsa, the attack has crossed economic threshold levels (ETL). "If the number of insects is eight to 10 per leaf, the attack is said to have crossed ETL. But in Sirsa, we have observed 15 to 20 insects per leaf at most places and even up to 30 to 40 insects per leaf on some other plants," Dr Monga said.
The CICR has urged farmers not to use any mixture of insecticides on Bt cotton for management of whitefly. Monga advised farmers to apply a litre of neem oil per acre, Diafenthiuron 325g per acre and Buprofezin 400 ml per acre alternatively on the basis of the crop's growth stage.
Top News
Next hearing soon, closely following matter and extending al...
Sonia Gandhi, Mallikarjun Kharge, Rahul, Priyanka attend the...
Flags concerns to US, Canada over Pannun's threat to Air Ind...
Wray is expected to hold talks with senior Indian security o...