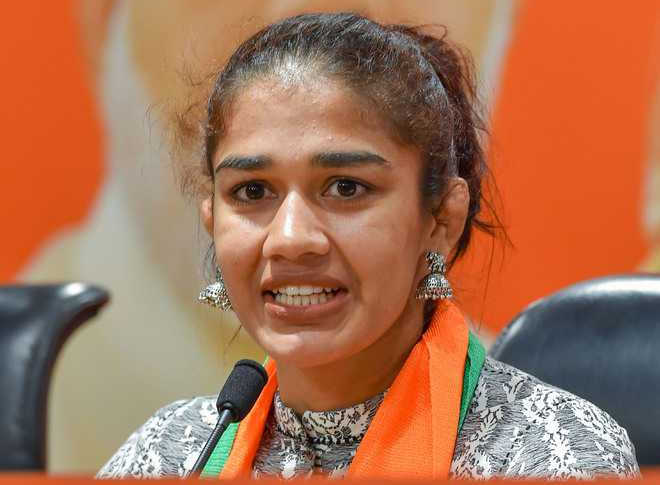 Bhartesh Singh Thakur
Tribune News Service
Chandigarh, September 17
International wrestler Babita Phogat is ready to contest from any seat, but will not give up the sport. "Wrestling is my identity. I am going through rehabilitation following a serious knee injury. Even if I cannot play, I will train girls, but will not leave the game," she said on Tuesday.
She was in Chandigarh for the release of Prabhat Prakashan's Hindi edition of 'Akhara', an official biography of her father, Dronacharya awardee Mahavir Singh Phogat.
On shifting her support from the JJP to the BJP, she said her family had relations with the Chautalas and that was why she was supporting Dushyant Chautala's party.
"I was a brand ambassador of the Municipal Corporation Delhi for Swachhta Abhiyan. We attend events as stars, but that does not mean we have joined a particular party," Babita said.
"I wanted to connect to a nationalist party. Be it the surgical strike or the triple talaq Bill, all decisions of the BJP are in the interest of the nation. For me, nothing is bigger than the nation," she said.
On abrogation of Article 370, she said though people were free to express their opinions, this step would have a lot of benefits in terms of employment and business.
On the JJP, INLD and Congress, she said, "I do not want to say anything against them. I will like to say what I like about the BJP. People feel respect and dignity when they talk about Prime Minister Narendra Modi."
On supporting CM Manohar Lal Khattar on Twitter following his remark on Kashmiri girls, Babita said, "He did not utter any derogatory remark. It all depends on how we take it." On her choice of seat, she said, "Whether it is Badhra, Charkhi Dadri or any other seat, I am ready to fight and win. We are fighters."