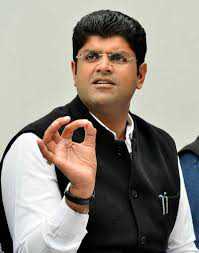 Panipat, June 16
Dushyant Chautala, JJP leader, has said the Assembly elections would be contested on issues different from the Lok Sabha elections. He appealed to party workers to work hard for 100 days and seize power.
Dushyant was in the city on Sunday to address party workers' meeting.
The former MP said the party symbol, a key, would open the lock of state's prosperity. "Our symbol is a key to the prosperity of farmers, women, and youth." Boosting party workers, Dushyant said they had to stand strong against state government's policies.
He appealed to workers to spread the message of rozgar mera adhikar among the youth. He promised that his government would start pension for women at 55 years. With this end in mind, he asked women workers to conduct a survey of 55-year-old women. — TNS