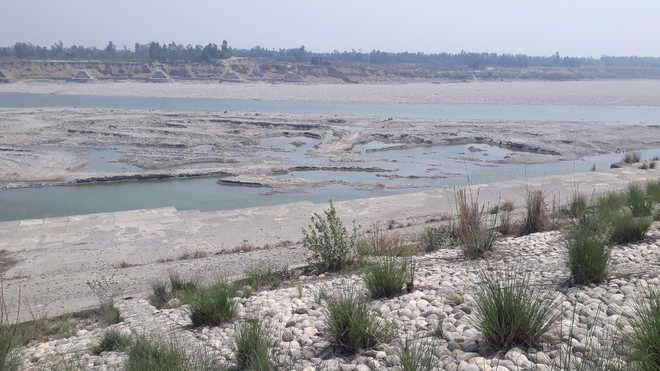 Shiv Kumar Sharma
Tribune News Service
Yamunanagar, April 13
The mining mafia has reportedly carried out excessive illegal mining in the bed of the Yamuna in Tajewala village, making the riverbed level lower in Haryana than in Uttar Pradesh.
Uncontrolled mining in the riverbed was done on left side of the right lower down-stream embankment (RLDSE), the right side of which was badly damaged with mining done up to 50 feet in depth.
"There are chances that the Yamuna may change course in the rainy season. It will flow with excessive water towards the Haryana side, enhancing chances of a breach," said a source.
The right bank of the Yamuna is in Haryana and the left bank in Uttar Pradesh. The 19,600-foot-long RLDSE, constructed close to the old Tajewala headworks, was repaired at a cost of Rs 3398.43 lakh between 2011 and 2013.
"There are agricultural fields on the right side of the RLDSE, but the mining mafia has damaged a large portion by carrying out illegal mining," said the source.
"The mining mafia has not spared the Yamuna riverbed on the left side and carried out excessive illegal mining in a large portion there," said the source.
The excessive illegal mining had led to the possibility of damage to the Hathnikund barrage, about 3.5 km upstream of the old Tajewala headworks, and wreaking havoc in the area.
Haridev Kamboj, Executive Engineer, Water Services Division, Dadupur, said he had written about the illegal mining to the higher authorities. Social activist and advocate Waryam Singh said the government should take strict action against the officials who were responsible for illegal mining on both sides of RLDSE.
Top News
Was speaking to Indian journalists in Washington
This comes amid a diplomatic row between India and Canada ov...
Granthi Giani Jaswinder Singh from Pine Hill Gurdwara in New...
Heavy security deployed to deal with the situation
Head Constable Chaubey Singh, Constable Omveer Singh and Con...