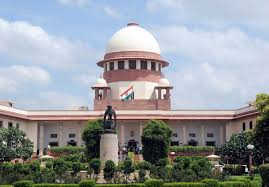 New Delhi, April 30
You cannot go on "making fool" of the people and blame them for everything just because you are in power.
This was how the Supreme Court rapped the Haryana government for auctioning 558.53 hectares for mining purposes, though the available area was only 141.76 hectares.
A Bench comprising Justices Madan B Lokur and Deepak Gupta expressed displeasure over a public notice for auctioning 558.53 hectares when only 141.76 hectares were available.
Observing that the petitioner firm was entitled to a refund of the deposited amount, the top court directed the state to refund the money along with 9 per cent interest per annum from the date of deposit till the date of payment, keeping in view the "vast discrepancy".
The court noted in its order that the firm had refused to take possession of the area sought to be auctioned by the state in Karnal district.
When the counsel for Haryana said it was the duty of the company to ascertain whether the land was actually 558.53 hectares, an annoyed Bench said, "It is very easy to blame citizens for everything just because you are in power."
The counsel referred to a clause of terms and conditions which said "all prospective bidders are expected and presumed to have surveyed the areas... the government shall not be responsible".
However, the Bench observed that it was "quite clear" that there was no requirement on the prospective bidder to survey the area for the purpose of measurement. "The prospective bidder can make an assessment for the potential of the area for which bids are to be offered," it said, while setting aside the Punjab and Haryana High Court's June 2016 order that had dismissed the plea filed by the firm in this regard. — PTI