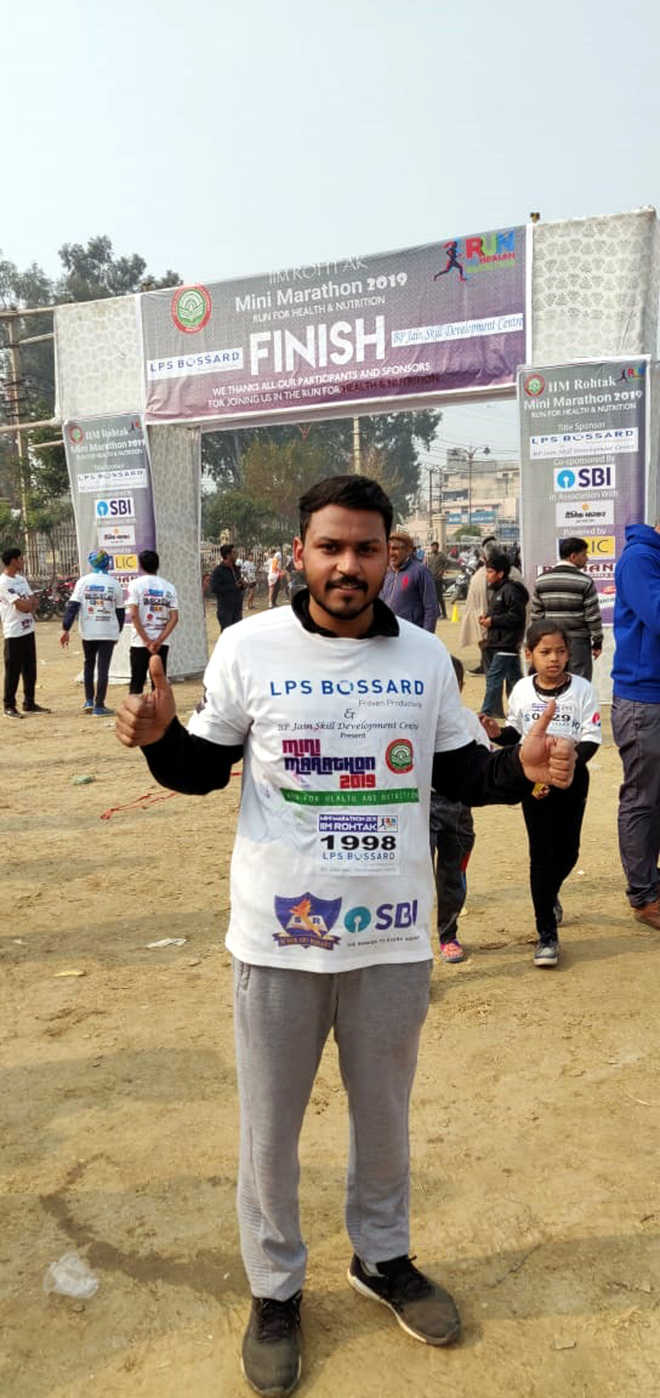 Rohtak: Sahil Gupta (27), who was confined to bed till recently due to a spine injury, surprised his family, acquaintances and other residents of the town as he participated in and successfully completed a 10-km marathon organised by the Indian Institute of Management (IIM), Rohtak, on Sunday. Sahil's father Vijay Lakshmi Chand Gupta, a traders' leader, said Sahil was confined to bed for nearly five years due to a spine injury and had recovered only a few months ago. "We took him to a number of specialist doctors and hospitals but to no avail. Eventually, he started doing yoga and physical exercises. He beat his inability by virtue of his will power and sustained efforts," he said. Gupta said that Sahil, who had completed his B.Tech and was employed in a private company, lost his job due to his physical condition. But while undergoing treatment, he did his M.Tech and topped in the exams, he added.
Alumnus donates Rs 1 lakh to KU
Kurukshetra: An alumnus of Kurukshetra University, Dr Shilpi Aggarwal, has donated Rs 1 lakh to her alma mater. Aggarwal, associate professor of chemistry at Kaithal's RKSD College, said it was her maiden contribution to the institute that shaped her career. She announced her financial contribution during KU's 64th foundation stone day function held on January 11. It was for the first time in the history of KU that its day of inception was observed. Aggarwal did MSc (chemistry) from KU in 2004 and won a gold medal. She completed her PhD from the university under senior faculty member Prof Om Prakash.
Khap resolves to fight social evils
Sonepat: An Akhil Bhartiya Narwal Khap Panchayat was organised at Kathura village in the district on Saturday in which representatives of Narwal Khap (gotra) from different states including Haryana, Delhi, Uttar Pradesh, Punjab, Uttarakhand, Rajasthan and Jammu and Kashmir participated and unanimously adopted some resolutions against the social evils. Some of the resolutions included educating and empowering girls, banning dowry and serving of liquor during marriages, a maximum of 11 persons to go to express condolences during deaths, taking of only Re 1 while performing engagement ceremony, helping girls from poor families of the Narwal Khap for their education and construction of Narwal Bhawan at Kathura village. Bhalle Ram Narwal was unanimously re-elected national president of the khap. Prominent personalities of the khap in different fields were honoured. Prominent among those present included MLAs Tejender Narawal and Jaiveer Balmiki; Meena Narwal, Chairperson of Zila Parishad; OP Narwal, IPS in Haryana; Sandeep Narwal, international pro-kabaddi player; and Dr Kapoor Singh Narwal.
DC celebrates Lohri with poor kids
Kaithal: To celebrate festivals with poor children reflects the humanity in a person, said Dharamvir Singh, Deputy Commissioner and chairman, District Child Welfare Society. He said this after distributing pullovers, groundnuts and 'rewri' at a function in Bal Bhawan here on Lohri. Earlier, Deputy Commissioner Dharamvir, District Child Welfare Officer Balbir Chauhan and others participated in a 'havan'.
DAV institutions founder birth anniv celebrated
Yamunanagar: The birth anniversary of JN Kapur, founder of DAV institutions, Yamunanagar, and former vice-president of DAV College managing committee, New Delhi, was celebrated at DAV College for Girls, Yamunanagar, on January 10. Swami Sachidanand was the chief guest and MC Sharma, treasurer, DAV College managing committee, New Delhi, presided over the function. During the function, woollen clothes and shoes were distributed among needy students. Vijay Kapur said that his father JN Kapur was a great educationist. He actively participated in the Arya Samaj and DAV movements before Independence. He said that he had become a member of DAV College managing committee, Lahore, when he was just 24. After Partition, he opened various DAV institutions by collecting donations to spread literacy among the masses.
University adopts five villages
Sonepat: The Social Works Department of Bhagat Phool Singh Women University, Khanpur Klan, has adopted five villages — Gamri, Kasandi, Kasanda, Kakana and Garhi Ujale Khan — in the district under the Unnat Bharat Abhiyan of the Union Ministry of Human Resource Development for the all-round development of the people of these villages. The university's Vice-Chancellor, Prof Sushma Yadav, said a baseline domestic survey would be conducted to understand the needs and problems of these villages. Stressing that the university-society interface was a good model for societal uplift, she said that all possible help would be provided to the adopted villages for all-round development.
'Raahgiri' completes one year
Jhajjar: People from all walks of life participated in cultural events and baton relay organised by the district administration in Bahadurgarh town on Sunday to mark the first anniversary of 'Raahgiri'. The baton relay started from Jahan Aara Bagh Stadium in Jhajjar city and concluded at Railway Road in Bahadurgarh where a stage was set for celebration with Haryanvi songs, dances and other performances. The participants in the baton relay covered 32 km in one-and-a-half hours. Sonal Goel, Deputy Commissioner (DC), said the 'Raahgiri' launched in the district on January 14, 2018, had succeeded in striking a chord with the common man who enthusiastically took part in it. "Raahgiri day is not just an event. It is a festival of bonding, cohesiveness and brotherhood. Raahgiri is usually considered an event of urban centres and metropolitan cities, but we re-engineered it to suit the needs of a less-urban district such as Jhajjar," Sonal added.
Senior official 'down with swine flu'
Hisar: The rising number of cases of swine flu in Hisar district has taken a senior official of the district administration in its grasp. Sources said that the official, who was not present at the Chief Minister's function in the town on Sunday, has been recuperating from flu for the past 2-3 days. Significantly, none of the authorities of the district administration clarified the matter. The CMO, TC Sharma, who was friendly with mediapersons during his term as principal medical officer, remained out of bounds of mediapersons regarding checking the authenticity of the information. The sources added that the Health Department was under pressure after the death of six persons and 80 suspected cases of swine flu in Hisar in a month. Hence, they have decided against sharing information with the media. Deputy Commissioner Ashok Kumar Meena did not respond to the calls on his mobile phone.
Contributed by Sunit Dhawan, Vishal Joshi, BS Malik, Satish Seth, Shiv Kumar Sharma, Ravinder Saini, Deepender Deswal