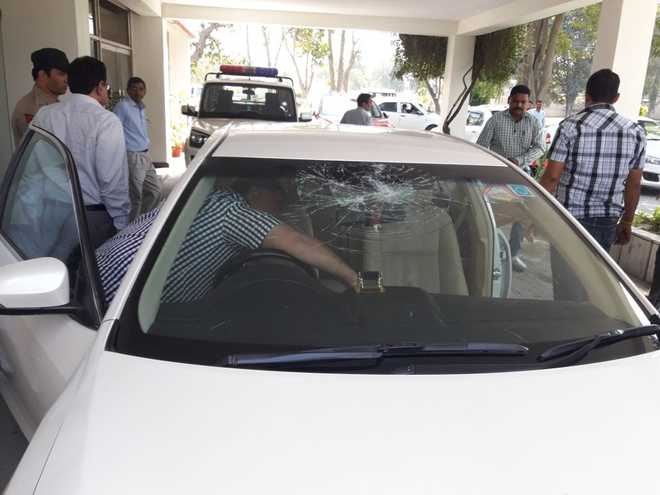 Mukesh Tandon
Tribune News Service
Panipat, March 30
A youth threw a cemented brick and broke the front glass pane of the car of Haryana Health Minister Anil Vij on Friday in the porch of mini secretariat here in the noon.
Vij along with Panipat Rural MLA Mahipal Dhanda, Samalkha MLA Ravinder Machroli, and BJP district president Pramod Vij was present in the car at the time of the incident.
The youth along with one accomplice was detained by the police immediately after the incident. The duo was identified as Amit (24) and Deepak (25) of Shanti Nagar and Mahabir Colony of the city.
After chairing the District Public Relations and Grievance Redressal Committee meeting in the hall of mini secretariat here, the minister sat in his official car along with his driver Chander Prakash on the front seat while the others sat on the rear seat.
All administrative officials, including Deputy Commissioner Sumedha Kataria and Superintendent of Police Rahul Sharma, and other party leaders were present in the porch to see off the minister.
As the driver started the car, a youth in a checked shirt came and threw a cemented brick at the car. The front window was broken but the minister escaped unhurt.
The youth who pelted the brick tried to escape but the police rounded him up and also nabbed his accomplice.
The minister said it was a negligence of the police. He said the youths have been detained immediately and have been identified.
Refusing it to be a pre-planned conspiracy by the youths, Vij said, "It did not seem like it was premeditated. The police told that the youths were opposing the apex court's decision about the SC-ST Act."
Rahul Sharma, SP, said, "The two youths have been detained and investigations are on."
Police teams are interrogating the youths and investigating the matter on all possible lines, he added.
A case would be registered accordingly against the youths, the SP said.
Top News
Severest of severe action taken: CM | Amritpal's lawyer alle...
BJP slams Cong for skipping RS Chairman's meeting
White House refuses to comment on claim