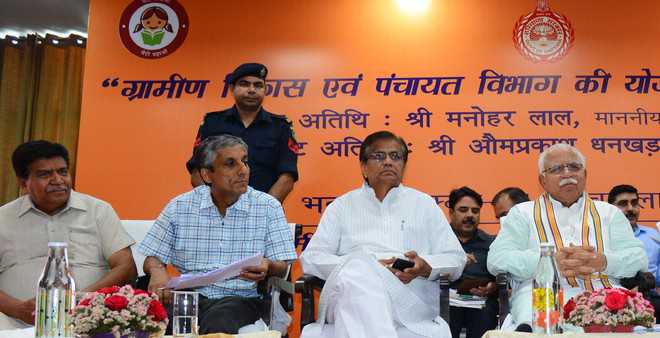 Tribune News Service
Chandigarh, June 14
In yet another major step to further strengthen and empower the Panchayati Raj Institutions (PRIs) by way of devolution of powers, Chief Minister Manohar Lal Khattar today announced more power to the zila parishads to execute more developmental works.
Now, the zila parishad would be able to undertake works under the Mahatma Gandhi National Rural Employment Guarantee Scheme (MGNREGS), Pradhan Mantri Awas Yojana (PMAY) and Integrated Watershed Management Programme (IWMP).
Khattar was presiding over a meeting to review schemes of the Panchayat and Rural Development Department here today.
He also announced that Chief Executive Officer (CEO) of the zila parishad would have independent charge and Additional Deputy Commissioner would not be given this additional charge. He also directed that one Junior Engineer (JE) either from the Rural Development Department or Public Health Engineering Department or any other department be given independent charge in the zila parishads in each district to carry out developmental works.
The chief minister said the state government had taken several steps to bring about a revolutionary change in the administrative system of PRIs and Rural Development to improve the pace of works at grass-roots level.
He said the state government had envisioned a number of initiatives, including the social audit system, to bring about transparency in the execution of works. The village-level committees comprising ex-servicemen, retired teachers and engineers should be constituted which would not only monitor the progress of works but also ensure transparency, he added.
Besides the funds provided by the state government, the zila parishads should make efforts to generate their own resources, the Chief Minister said, adding that earlier the zila parishad budget used to be between Rs1 crore and Rs2 crore but the present government had increased it to about Rs25 crore.
He said to ensure the active participation of PRIs in the development process of the state, the Inter District Council had been constituted on the pattern of Inter State Council.
Khattar said like birth registration, the state government was planning to make death registration mandatory to ascertain the actual data of population. For this, the registration of all cremation grounds had been done in the state.
Super time scale for 19 HCS officers
The Haryana Government has granted the super time scale to 19 HCS officers with effect from January 1, 2019. These included Varsha Khangwal, Virender Singh Sehrawat, Ashima Sangwan, Satyender Duhan, Manita Malik, Satbir Singh, Amrita Singh, Yogesh Kumar, Vandana Disodia, Subhita Dhaka, Jaideep Kumar, Samwartak Singh Khangwal, Anurag Dhalia, Subhash Chander Sihag, Satish Kumar Jain, Yogesh Kumar Mehta, Devi Lal Sihag, Prithvi Singh and Naveen Kumar Ahuja.