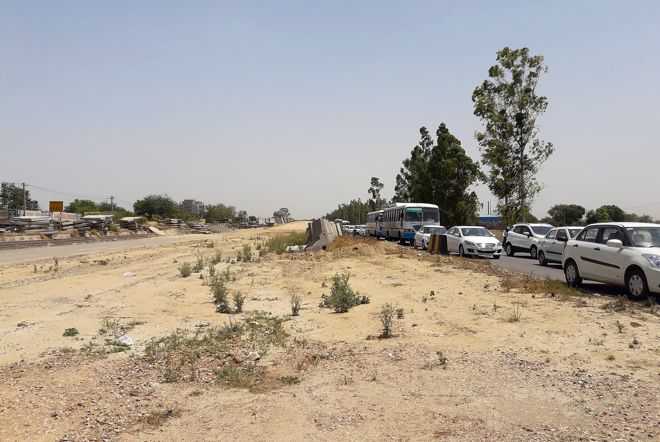 Mukesh Tandon
Work on the 12-lane National Highway-44 stretch between Mukarba Chowk in Delhi and Panipat, considered Prime Minister Narendra Modi's dream project, has missed its deadline. Only 42 per cent of the work has been done on the Rs 2,128.72-crore project, which was expected to be completed by April.
Work on the Mukarba Chowk-Panipat Expressway has been stalled for the past nine months. The project entailed conversion of the NH-44 between Mukarba Chowk in Delhi and Panipat to 12 lanes, including eight main lanes and four service lanes. The delay has led to problems for commuters, especially at night.
The foundation stone of the project was laid by Prime Minister Narendra Modi in November 2015 and work was scheduled to be completed by April 30 this year. The road was being built by Essel Infra Project Company on a build-operate-transfer (BOT) basis.
Under the project, there would be no diversion on the stretch and major road junctions would be linked to main roads without affecting traffic. The stretch would have eight main carriage lanes and four service lanes on both sides.
Old four-lane bridges in Murthal, Gannaur and Samalkha would be expanded. Transformation of the national highway into an express highway would end the problem of traffic jams.
Initially, the delay was caused by the land acquisition process, removal of encroachments and getting clearances for felling trees. But after these issues were resolved, slow pace of work held up the project, much to the chagrin of the NHAI (National Highway Authority of India).
According to sources, the company stopped work on all sites — flyovers, underpasses, underbridges, service lanes and other structures — nine months ago. An NHAI official attributed this to financial constraints faced by the company. He said work had not been resumed despite several notices served by the NHAI.
As per media reports, PM Modi also expressed dissatisfaction over the slow pace of work on the stretch.
Killer stretch
The largest stretch of the project lies in districts of Sonepat and Panipat. It is under the jurisdiction of six police stations, including Kundli, Rai, Murthal and Gannaur of Sonepat district and Samalkha of Panipat district.
A total of 1,381 accident cases have been registered in all police stations on NH-44 in the last two-and-a-half years. Also, 405 accidents took place on NH-44 in Sonepat and Panipat districts, in which 329 commuters lost their lives in the past 17 months.
According to data with the Panipat police, 73 accidents were reported on the national highway under Samalkha police station, in which 35 persons were killed and 67 persons injured in 2018. A total of 31 cases were reported till May, in which 17 persons lost their lives and 20 sustained injuries. A total of 32 persons lost their lives and 42 sustained serious injuries in 66 accident cases on NH-44.
In 2019, till the end of May, 39 accident cases were registered out of which 18 persons died.
According to data provided by the Sonepat police, 141 accident cases took place on NH-44 in 2018, in which 167 people died.
About the PM's dream project
Conversion of NH-44 between Mukarba Chowk in Delhi and Panipat to 12 lanes, including eight main lanes and four service lanes
70-km stretch will have 29 minor bridges, 10 flyovers, five vehicular underpasses, five passenger underpasses, 11 foot overbridges and 15 major road junctions
Project cost: Rs 2,178.82 crore on BOT basis
Company: Essel Infra Project
Nightmare for commuters
With the company digging up service lanes, the main highway and roadsides, besides starting construction of underpasses and flyovers, the National Highway has been diverted at many places between Mukarba Chowk and Panipat
Commuters have been facing traffic jams, clouds of dust and unmarked road cuts. Lack of signboards on construction sites also causes accidents, especially at night
VOICES OF DESPAIR, FRUSTATION
Why toll collection?
Even after two years the work has not been completed. The road is narrow at several places, causing problems. Toll collection has started in Murthal. The deadline has been missed and no penalty has been imposed — Jugwinder Malik, Member of GT Road Bachao Sangharsh Samiti, Panipat
Such an ordeal, pull up firm
I travelled to Panipat from Delhi at night a few days ago and found the NH was dug up at many places. Commuters cannot see vehicles coming from the opposite side. — Dr Pankaj Mutneja, Head, Prem Hospital, Panipat
Difficult commute to Delhi
I used this stretch three to four times a week to go to Delhi. Earlier, it used to take about an hour to reach Delhi from Panipat. Now, the journey takes anything between two and six hours. Bottlenecks and trenches dug up at several sites cause accidents every day. I filed a PIL in the High Court over the slow pace of work in April. — Ashwani Dutt, Businessman, Panipat
Callousness, nothing else
Commuters are paying for the callousness of NHAI and the company. There is a permanent traffic jam at Rai in Sonepat district and some other places on the NH. So many people have lost their lives due to open drains, trenches, underpasses and partially constructed flyovers and bridges. — Mandeep Gupta, Businessman, Panipat
Govt should take cognisance
The government should take cognisance of the delay in road construction. The NHAI and the Union government were supposed to monitor work from the beginning. Partial construction work has led to a sharp rise in accidents on NH. — Mohit Bajaj, Businessman, Panipat
Have decided to take action
Work was held up by the construction company, which has now started work at a few sites. We have taken a serious note. Several notices have been served on the concessioner. The department has decided to initiate action, no more can be disclosed at this stage. — Ashish Jain, Project Director, NHAI, Delhi