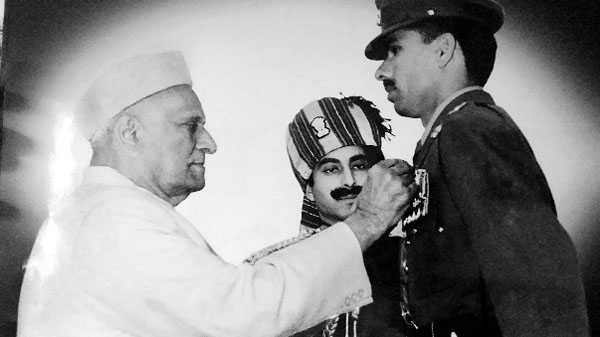 Col Dilbag Dabas (Retd.)
"Love for the nation can make one go to any extreme" — Col Hoshiar Singh Dahiya, PVC.
Hoshiar Singh, son of Ch Hira Singh Dahiya, was born on May 5, 1936, at Sisana village in Rohtak district of then undivided Punjab (now Sonepat district). After matriculation from Jat HMAS High School, Rohtak, and a year at Jat College, Rohtak, he joined Jat Regiment as a sepoy and was commissioned as an officer in June 1963 in 3 Grenadiers. Hoshiar Singh could relate to jawans better and maintained excellent rapport with men under his command; a rapport that was destined to make history less than a decade later. During the 1971 war with Pakistan, Hoshiar Singh, then commanding an infantry company, displayed bravery and dauntless courage of the highest order, with complete disregard for personal safety; an unparalleled act of valour for which he was awarded well merited Param Vir Chakra. Then President of India, VV Giri, awarded him the Param Vir Chakra on January 26, 1972.
Col Hoshiar Singh as a Major had a commendable two years' instructional tenure at the prestigious Indian Military Academy, Dehradun. Later he commanded 3 Grenadiers, his own Battalion, with distinction. After retirement from the Army in May 1988, the Colonel made Jaipur his second home but frequently came to his native village and motivated the young blood to strive to join defence services. Almost every house in his Sisana village has at least one male serving in the military. Due to cardiac arrest, Col Hoshiar Singh breathed his last on December 6, 1998, barely 62 then. His mortal remains were cremated at Jaipur with full military honours. Hoshiar Singh, the Param Vir, has been an epitome of regimental spirit. All his three sons consciously attempted to follow in his footsteps. Two made the grade and were commissioned in Grenadiers, their father's regiment. One even availed of the parental claim and served in 3 Grenadiers, his father's Battalion.
Late Col Hoshiar Singh Dahiya left a mark of valour not only in Haryana but also in the entire nation. He remains a source of inspiration not only for Dahiyas of Sisana but also for Indian young blood.
The Param Vir Chakra (PVC) is India's highest military decoration awarded for the most conspicuous bravery or some daring or pre-eminent act of valour or self sacrifice in the face of the enemy whether on land, at sea or in the air. The Param Vir Chakra is equivalent to the Medal of Honour in the United States and the Victoria Cross in the United Kingdom. It was established on January 26, 1950, the Indian Republic Day. Among 21 PVC awardees since India's independence, Late Col Hoshiar Singh Dahiya, a son of present day Haryana, was one among the bravest of the braves.
(The writer is veteran Gunner, 6 Field Regiment)
---
Param Vir Chakara winner Col Hoshiar Singh
The citation of the Param Vir Chakra which he received from the then President of India, VV Giri, on January 26, 1972, reads:
---
"On 15th December 1971, a battalion of the Grenadiers was given the task of establishing a bridgehead across the Basantar River in the Shakargarh Sector. Major Hoshiar Singh, who was commanding the left forward company, was ordered to capture the enemy locality at Jarpal. This was a well-fortified position and was held in strength by the enemy. During the assault, his company came under intense shelling and effective crossfire from enemy medium machine guns. Undeterred, he led the charge and captured the objective after a fierce hand-to-hand fight. The enemy reacted and put in three counter-attacks on 16 December, two of them supported by armour. Major Hoshiar Singh, unmindful of the heavy shelling and tank fire, went from trench to trench, motivating his command and encouraging his men to stand fast and fight. Inspired by his courage and dauntless leadership, his company repulsed all the attacks inflicting heavy casualties on the enemy. Again, on 17 December, the enemy made another attack with a battalion supported by heavy artillery fire. Though seriously wounded by enemy shelling, Major Hoshiar Singh again went from trench to trench, moving about in the open with utter disregard for his personal safety, when an enemy shell landed near the MMG post injuring the crew and rendering it inoperative. Major Hoshiar Singh, realizing the importance of the machine gun fire, immediately rushed to the machine gun pit and, though seriously wounded himself, manned the gun, inflicting heavy casualties on the enemy. The attack was successfully repulsed and the enemy retreated, leaving behind 85 dead, including their Commanding Officer and three other officers. Though seriously wounded, Major Hoshiar Singh refused to be evacuated till the cease-fire. Throughout this operation, Major Hoshiar Singh displayed most conspicuous gallantry, indomitable fighting spirit and leadership."
Top News
Ethics Committee of Lok Sabha had recommended Moitra's expul...
TMC leader alleges parliamentary panel is being weaponised b...
The observers will visit the states and give inputs to BJP p...
The firing incident of December 3 was caught in a CCTV camer...
Medical College police include the shocking details in their...