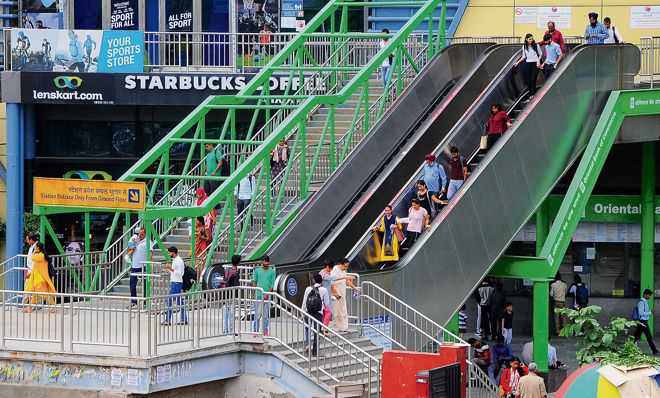 Sumedha Sharma
Working with an automobile giant, 36-year-old Haruto from Japan and his nine-year-old daughter Sakura were excited about living in Gurugram for six months. Having heard so much about cosmopolitan city Gurugram and its infrastructural development from his friends, Haruto was sure that it would be best suited to get her daughter a slice of Indian life. Two weeks in the city and Sakura was on her flight back home to Kyoto.
"Yes, she could not see Gurugram city as the challenge she faced was not there back home. The moment we stepped out of the airport we realised the real challenge. I had fanatically searched for an 'accessible' home but to my amazement, the city that boasts of flats even costlier than those in Japan did not have any such feature. Ironically, while condominiums boasted of being designed to even suit your pet birds, I could not find any that would allow Sakura to move around unaided. My daughter, who would go to school, park and even market on her own back home, had to take help even to maneuver around the house. She wanted a person 24X7 to help her even to get into the lift, and walk around the society park. There was no chance that she could be sent alone on road or even to a mall, as there was no way to manage things around even with her stick. Had no choice but to send her back," says Haruto.
The experience is not solo or unique but shared by almost every specially-abled person in the city. Gurugram has over the years gained many titles such as millennial city, cyber hub, automobile hub, party capital or medical tourism hub but it's still miles away from becoming 'universally accessible'. Be it our government buildings, public spaces, roads, malls and even houses, hardly any structure has been designed or modified to allow an unaided access to specially-abled people, especially like Sakura. Yes, there are wheelchairs and entry ramps at many places but facilities such Braille buttons in lifts, Braille guides, railings, short staircases and a smooth walkway are unheard of in the city.
The city boasts of luxurious living spaces that provide every single facility that you can think of. However, not even one housing project qualifies as being 'universally accessible' or simply be barrier free.
Barrier-free housing
A barrier-free housing environment consists of elements of the environment in which senior citizens and disabled people can freely move around and use the amenities in an apartment. Owing to age-related issues, medical procedures or being specially-abled, one has to depend on devices such as a walker, wheelchair, or a power scooter. In order to make them comfortable on these devices, an apartment should also have good lighting and auditory levels. It should have a barrier-free safe path to travel with an accessible entrance, washrooms, stalls, easy access to paper towels, handles, latches and other locking devices.
Other features
Floor-mounted toilets should be used instead of mounted toilets.
Toilets should be spacious enough for wheelchairs to move freely.
One shouldn't have floor sinks or small barriers which might come in the way of wheelchairs.
Inclusion of Braille-equipped or auditory-controlled equipment.
For doorways, corridors and elevators a separate walkway should be designed for senior citizens, specially-abled, and visually impaired living in the apartment.
Doorways should have minimum clearance to accommodate a wheelchair and other movement devices.
Corridors and doorways should have the maximum width.
Doors should be large enough with a sliding passageway instead of stairs.
Ramps should be constructed in many places and Braille-equipped and audio-controlled lifts should be installed.
Roads and transport
Ironic but true, the road infrastructure in Gurugram city is not even pedestrian friendly, leave aside being specially-abled friendly. Whether it is about crossing a road, driving or parking, the city is yet to wake up to fact that specially-abled people have an equal right to travel and use public and private transportation infrastructure with dignity and independence. Visit any road, foot over-bridge, underpass, parking space or footpaths and you will realize that the city is miles away from being universal accessibility.
According to the National Urban Transport Policy, 2014 following aspects need to be kept in mind while designing roads.
Well-lit streets and bus shelters.
Raised pedestrian crossings to facilitate a barrier-free movement with differently textured paving material to make the crossing more perceivable.
Footpaths with even surface for the movement of mobility-aid users and continuous tactile pavers along the entire stretch for persons with visual impairment.
Special white lighting for footpaths that maintains colour contrast from road and ensures that tactile pavers are visible at night.
Audible light signals that beep when light is green.
Bus shelters with barrier-free access having defined boarding gates with warning tiles.
Folding ramps in low-floor buses to allow access to mobility-aid users.
Space to park wheelchairs with a provision of safety belt during journey in buses.
A provision of Braille signage and audible messages on signage panels.
Metro stations and coaches with accessibility features.
Public spaces
Be it malls, markets, government offices and even parks, accessibility remains the key issue; the biggest problem is maneuvering between two floors or inside a facility. Public spaces need to be thoughtfully planned with a provision of Braille symbols and auditory signals in elevators, a provision of compatible toilets with grab bars, an audio announcement system at traffic signals, wheelchair facilities, graphic signage, installation of ramps, etc.
Few expert architects
A very small number of architects in the country (around 11 per cent) have expertise required for developing accessibility designs for physically challenged. According to the National Building Code, it is mandatory for all public places, not only airports and railway stations, to provide accessibility to disabled people. Encroached upon spaces, raised kerbs and bumpy pavements are some hurdles that restrict the mobility of such people on streets.
What Gurugram needs
Ensure access to pathways, junctions, footpaths, bus shelters, crossings and public transportation.
Create accessible websites, applications, government portals or community engagement platforms.
Create an accessible digital technology for websites, mobile applications, products and services.
Design accessible buildings, parks, playgrounds, schools, colleges, hospitals, recreational areas, public toilets, etc.
Initiative of Delhi Metro
The Delhi Metro is a pioneering project that has adhered to the needs of differently-abled persons by providing proper ramps at all stations, low-level control panel in lifts, buttons in Braille, prominent colour contrasts and lettering, etc.
5 lakh differently-abled persons in Haryana
According to the Census 2011, nearly 2.68 crore people in India are specially abled and over 5 lakh of them are in Haryana. The Rights of Persons with Disabilities Act, 2016 and the "Accessible India" (Sugamya Bharat Abhiyan) campaign rolled out by the Prime Minister in 2015 aim at making it convenient for persons with disabilities to access administrative buildings and transport, among other things. The campaign was launched in seven states, including Delhi and Haryana, and when accessibility audits were carried out, a majority of spaces failed. The fervour, however, died within a year with no updated audit measures. The government claims it is committed towards socio-economic transformation of the persons with disabilities by 2020.
Top News
The scheme to cost additional Rs 44,762 crore
There are about 50 lakh Central Government employees and ove...
Decision comes following two consecutive country-wide raids ...
The process of nominations ends on September 30 with only Sh...