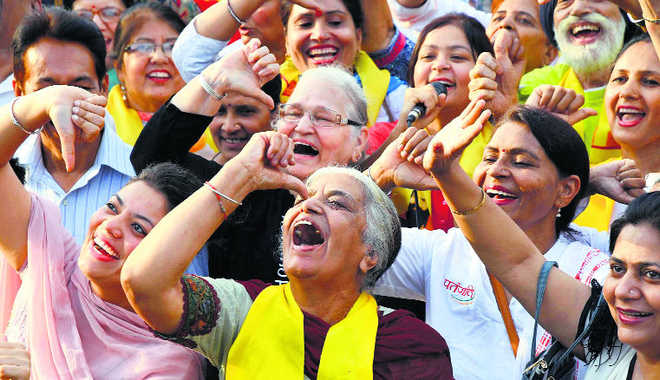 Sumedha Sharma
The recent murder of a septuagenarian in DLF phase 1 in Gurugram city by a labourer employed by her for house renovation has rattled senior citizens. Indira Khanna (72) was a retired administrator of an export house who was living in the city alone for the past 22 years. Like most of the senior citizens she also had a close relative (a sister) living nearby in Sushant Lok and had been in constant contact with her. It was Indira's sister who first came to know about her death after phone calls to her went unanswered.
The tragic death not only raised serious concern over the security of senior citizens in the city but also made everybody wonder whether Gurugram is senior-citizen inclusive or ready to deal with the phenomena of urban ageing.
Urban ageing
It is a social phenomenon of ageing of a majority of the population in urban areas owing to longevity of life enhanced by various factors. According to the Census 2011, the elderly population in India has been rising and at present accounts for about 8.6 per cent of the total population, as compared to 5.6 per cent in 1961. The changed graph of age dynamics has in turn created a demand for suitable cities to accommodate the security, social and mobility demands of this segment of population.
According to the latest Lancet Global Health study, supported by the World Health Organisation (WHO), about 16 per cent of the people aged 60 years and above are psychologically abused, financially exploited, neglected, physically hurt or sexually abused. One in every five senior citizens in the country experiences some form of abuse or the other. The situation has posed a challenge to prepare for these developments in such a way that both current and future generations of older people can benefit from age-friendly strategies. A need has emerged for the creation of inclusive neighbourhoods and the implementation of technology for ageing-in cities.
Security issues
One of the biggest concerns of security citizens in the city is their security. With many of them living as single or couples, they feel vulnerable even while sleeping at night, receiving a courier, walking on road or hiring a domestic help etc.
Though over the time the authorities and social organisations have made tall claims about making senior citizens feel secure, nothing major has apparently been done on ground. There is no dependable SOS service for senior citizens in the city be it their security or medical emergency. They rely heavily on their close relatives living nearby or other senior citizens of their housing society but this surely cannot in any case replace the need for facilities such as a senior citizen cell, regular patrolling beat system or quick efficient emergency services exclusively for senior citizens and deterrent actions for crime against them.
Mobility concerns
While we have a huge number of senior citizens using transport or road infrastructure, ironically nothing seems to be planned to aid or prioritise them. A survey by the police conducted two years ago had highlighted how 80 per cent of private vehicle drivers above the age of 60 felt scared while hitting Gurugram roads due to rash driving by others. Similarly, 75 per cent of senior citizens felt it was not safe being on foot in the city and over 85 per cent admitted feeling insecure or threatened even at home. The way the Gurugram road infrastructure has been developed there are no special lanes, signboards or any other facility to make our roads senior-citizen friendly. There is no specific public transport or even a policy to mandate a provision to pick up and drop senior citizens even in case of an emergency.
Social infrastructure
One of the biggest shortcomings of the city is that there is nothing much for senior citizens to do for a leisurely retired life. It's just morning or evening walks or simple programmes organised by their groups to talk about. The city of tomorrow has no libraries, senior-only clubs, exclusive parks or cultural place etc for senior citizens.
Advisory for those living alone
Don't forget police helpline
Dialling police helpline 100 in an emergency will connect you to the nearest police headquarters.
Save emergency contacts on speed dial and install location sharing apps
Smart phones can be your biggest security aid. Make sure that you have a few numbers on speed dial. If you need immediate help and do not have time to share your address and/ or give directions, speed dial could be the saviour. Similarly, some special apps help you share your location with your emergency contacts at a click.
Connect with groups for the elderly
Senior citizens need to be part of a community or society group where members live nearby and can be reached out in case of an emergency. The group needs to check on each other regularly and be an easy available company when any outsider is involved in any work at home.
Know your domestic help
While hiring a domestic help or a nurse from a nurse centre, ask the person to deposit a photocopy of his/her identity document. Click a picture and submit to local police station for verification
Share the details about maids and servants at various social media groups to cross check their history.
Prepare for medical emergency
Install a burglar alarm
Get CCTV cameras
Ensure proper illumination
For standalone houses, try and install high-power overhead lights to keep all four corners illuminated.
The checklist of essential features of an age-friendly city should also consider transportation, housing and other social and community needs.
Transportation
Public transportation costs are consistent, clearly displayed and affordable.
Public transportation is reliable and frequent, including at night and at weekends and holidays.
All city areas and services are accessible by public transport, with good connections and well-marked routes and vehicles.
Vehicles are clean, well-maintained, accessible, not overcrowded and have priority seating that is respected.
Specialised transportation is available for disabled people.
Drivers stop at designated places.
Transport stops and stations are conveniently located, accessible, safe, clean, well-lit and well-marked, with adequate seating and shelter.
Complete and accessible information is provided to users about routes, schedules and special needs facilities.
A voluntary transport service is available where public transportation is too limited.
Taxis are accessible and affordable, and drivers are courteous and helpful.
Roads are well-maintained, with covered drains and good lighting.
Traffic signs and intersections are visible and well-placed.
Parking and drop-off areas are safe, sufficient in number and conveniently located.
Housing
Sufficient, affordable housing is available in areas that are safe and close to services and the rest of the community.
Sufficient and affordable home maintenance and support services are available.
Housing is well constructed and provides safe and comfortable shelter.
Interior spaces and level surfaces allow freedom of movement in all rooms and passageways.
Home modification options and supplies are available and affordable, and providers understand the needs of older people.
Sufficient and affordable housing for frail and disabled older people, with appropriate services, is provided locally.
Social participation
Venues for events and activities are conveniently located, accessible, well-lit and easily reached by public transport.
Events are held at times convenient for older people.
Activities and events can be attended alone or with a companion.
Activities and attractions are affordable, with no hidden or additional participation costs.
Good information about activities and events is provided, including details about accessibility of facilities and transportation options for older people.
A wide variety of activities is offered to appeal to a diverse population of older people.
Gatherings comprising older people are held in recreation centres, schools, libraries, community centres and parks.
There is consistent outreach to include people at risk of social isolation.
Respect, social inclusion
Older people are regularly consulted by public, voluntary and commercial services on how to serve them better.
Services and products to suit varying needs and preferences are provided by public and commercial services.
Service employees are courteous and helpful.
Older people are visible in the media, and are depicted positively.
Community-wide settings, activities and events attract all generations by accommodating age-specific needs and preferences.
Older people are specifically included in community activities for "families".
Schools provide opportunities to learn about ageing and older people, and involve older people in school activities.
Older people are recognised by the community for their past as well as their present contributions.
Older people, who are less well-off, have good access to public, voluntary and private services.
Civic participation, jobs
A range of flexible options for older volunteers is available, with training, recognition, guidance and compensation for personal costs.
The qualities of older employees are well promoted.
A range of flexible and appropriately paid opportunities for older people to work is promoted.
Discrimination on the basis of age alone is forbidden in hiring, retention, promotion and training of employees.
Workplaces are adapted to meet the needs of disabled people.
Self-employment options for older people.
Training in post-retirement options is provided for older workers.
Decision-making bodies in public, private and voluntary sectors encourage membership of older people.
Communication and information
A basic, effective communication system reaches community residents of all ages.
Regular and widespread distribution of information is assured and a coordinated, centralised access is provided.
Regular information and broadcasts of interest to older people are offered.
Oral communication accessible to older people is promoted.
People at risk of social isolation get one-to-one information from trusted individuals.
Public and commercial services provide friendly, person-to-person service on request.
Print and spoken communication uses simple, familiar words in short, straightforward sentences.
Electronic equipment, such as mobile phones, radios, televisions, and bank and ticket machines, has large buttons and big lettering.
There is wide public access to computers and the Internet, at no or minimal charge, in public places.
Community and health services
An adequate range of health and community support services is offered for promoting, maintaining and restoring health.
Home care services include health and personal care and housekeeping.
Health and social services are conveniently located and accessible by all means of transport.
Residential care facilities and designated older people's housing are located close to services and the rest of the community.
Health and community service facilities are safely constructed and fully accessible.
There are sufficient and accessible burial sites.
---
Course correction needed
The checklist of essential features of an age-friendly city is based on the results of the WHO Global Age-Friendly Cities project consultation in 33 cities in 22 countries. It is a tool for a city's self-assessment and a map for charting progress. Older people must be involved as full partners in assessing a city's strengths and deficiencies.
Outdoor spaces and buildings
Public areas are clean and pleasant.
Green spaces and outdoor seating are sufficient in number, well-maintained and safe.
Pavements are well-maintained, free of obstructions and reserved for pedestrians.
Pavements are non-slip, are wide enough for wheelchairs and have dropped curbs to road level.
Pedestrian crossings are sufficient in number and safe for people with different levels and types of disability, with non-slip markings, visual and audio cues and adequate crossing lines.
Drivers give way to pedestrians at intersections and pedestrian crossings.
Cycle paths are separate from pavements and other pedestrian walkways.
Outdoor safety is promoted by good street lighting, police patrols and community education. Services are situated together and are accessible.
Special customer service arrangements are provided, such as separate queues or service counters for older people.
Buildings are well-shined outside and inside, with sufficient seating and toilets, accessible elevators, ramps, railings and stairs, and non-slip floors.
Public toilets outdoors and indoors are sufficient in number, clean, well-maintained and accessible.