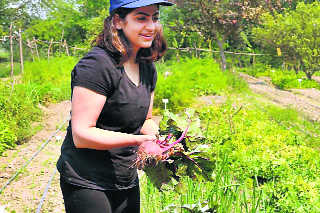 Sumedha Sharma
In Gurugram, urban farmers are attracting attention and urban farming has found a new meaning and definition. In the cyber city, over 200 organisational heads, lawyers, doctors, entrepreneurs, professionals, teachers and social workers have taken on lease small farmlands where they are themselves growing tradition fruits, vegetables and grains and various exotic plants. Community organic farming has found its footing amongst the working class people of the millennium city who are out to try their hands at growing fresh organic food items, engage with nature or simply return to their roots and unwind, leaving the hectic city life behind.
This farming culture has not only changed the lives of urbanites but also of local farmers, who are earning thrice the money they did earlier by taking land on contract for agriculture in the traditional way.
Deen Mohammad Khan, Gurugram District Horticulture Officer, is credited with popularizing the idea that is being adopted in many cosmopolitan cities across the nation. Called the Green Leaf initiative, it all started with a small WhatsApp group in 2016. Today, it boasts of having over 100 participant families, including renowned doctors, management bosses of multinational companies (MNC), lawyers etc.
"Community organic farming is quite popular abroad and I thought that Gurugram being a cosmopolitan city, it could also be tried here. Organic farming became popular and successful here in no time. For most of the subscribers living to flats in high-rise buildings, a small kitchen garden was a luxury and they spent a lot of money to source organic vegetables or foods from swanky supermarkets. Getting their own patches of farmlands and do farming was akin to the virtual world Farmville and the idea clicked," says Khan.
The initiative started with taking on lease 52 farms in Badshahpur. The farm owners were provided technical support and expertise to aid the subscribers, who were all enthusiastic first-timers. Soon, well-placed persons from corporate, medical and legal spheres were seen tilling lands, sowing seeds and collecting and preserving produce. They had to pay a fee to take the spaces on lease and labourers were hired to assist them in their farms. They are working on a no-profit basis and paying lease money to farmland owners much higher than what they traditionally got. The remaining fee is used to hire farm helps, thereby creating job opportunities. The idea was soon successful and it started attracting private players with Edible Routes and Organic Maati joining in. Initially involved in the balcony and terrace farming initiatives, Edible Routes launched mini-farm rental programme Farmlets in 2018. Today, it has over 120 people as members of a growing community of conscious urban farmers in the national capital region (NCR) in just seven months. They have conducted over 300 workshops to make people aware about urban farming, composting, growing their own food, natural building techniques, permaculture and making sustainable food choices. They conduct their own markets at their two community farms at Aali and Damaali in the NCR.
---
Safe space to be closer to nature
I work with an advocacy society that is involved in implementing gender just laws. I was actually researching on how and if farming could be used as a way of sustenance as well as empowerment and even as a therapy for women survivors of abuse and trafficking. Having a community to share this experience with is what appeals to me the most about having a small farmland. Even though we are all working on our different patches, it is a shared passion and we are all learning and discovering things side by side. It has slowly become my safe space, where I get to be outdoors, in nature, by myself but also be part of something bigger at the same time. And the fact that I don't have to give up my usual city life at all in order to have this very country experience is just the icing on the cake.— Parul Sethi, Advocate
People want to live a more sustainable life
The purpose of establishing Edible Routes was to address the growing concerns about urban food security, quality of food, and availability of safe and nutritious food. Not everyone has access to fresh, safe, clean and nutritious food and most of the nutritional content is lost by the time grains or vegetables reach us. Clean and fresh food is the main reason why people have turned to farming. They want to reconnect with nature, live a more sustainable life, and want their children to learn and appreciate where our food comes from. The idea has given power to the most desired aim of a healthy lifestyle of controlling the quality of things we consume. It has also given much required sustainable boost to shrinking urban farms.— Kapil Mandawewala, Founder of Edible Routes
A deep sense of completeness, nourishment
I always wanted to grow my own food and control what I ate. It's a great experience seeing your food on your plate, knowing its quality. It's worth 10 times over and the taste is somewhat different. Food is important to us and getting fresh and healthy food is vital to our existence. Farming has given me a deep sense of completeness and nourishment. Sowing seeds with our own hands, weeding the patch and harvesting the produce have been a fulfilling experience. While my husband finds it to be an antidote to a hectic work life, my daughter is happy to be on the receiving end of all the healthy food, her go-to snack being a large bowl of salad.— Amita Goyal, who is employed in the UK and is on leave
Bonding with nature
}I had spent most of my lifetime in the urban corporate world, and now my farm is my 'niravana'. It's not just about getting organic vegetables but also getting closer to nature. It was a chance to practise a profession that I thought was thrilling to impart skills to my son that no school or internet could teach him. It was a chance for me and my family to feel the thrills of sowing seeds, taking care of them and watering them, waiting in anticipation at the time of harvesting and finally contentment on getting the fruits of labour. We experience an organic relationship with nature.— Vikas Johari, Deputy General Manager, Chicago Bridge & Iron
Agriculture revolutionised
The idea was to create a space where Gurugram residents could get closer to nature and promote community organic farming but it soon became a greater objective. With the sprawl of concretisation in cities, farmlands have shrunk. For Gurugram city farmers the art of farming was growing obsolete and they were either giving on contract their farmlands to landless farmers for tilling or waiting to convert their use for other purposes. Community organic farming has revolutionised agriculture and helped in keeping pace with the advancements and needs of cosmopolitan city Gurugram. — Deen Mohammad Khan, District Horticulture Officer, Gurugram
Best stress-buster
Troubled for years with diabetes, I had been advised to try organic food and alternative activities to de-stress. Now, my Sunday mornings on the farm have become a sacred time for me. I cannot quantify the joy I derive from tending to the plants, seeing them grow, and harvesting them. It is a pity that I am unable to take time out on more days every week. I have no background of farming or organic agriculture but having my own small farm is giving me an opportunity to learn about my food in a completely new way. But most importantly it helped us to have amazing family time. Now, my entire family spends joyous time amidst the plants.— Sanjay Gupta, Education Consultant
Top Stories