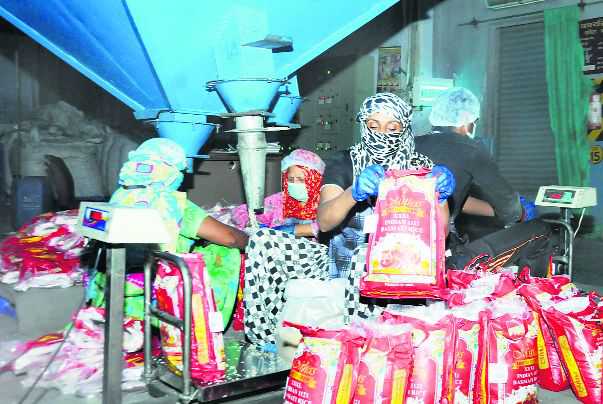 Parveen Arora
Even though rice exports from India have been rising year after year, a high content of pesticides in the grain is still a major challenge for exporters. The haphazard use of pesticides in basmati leads to rejection of the product in the international market as well as extra burden on farmers, as several countries have strict norms regarding the permissible amount of pesticides in rice. The All India Rice Exporters' Association, which has big exporters of Karnal district as members, has decided to continue with its campaign to make farmers aware about the right use of pesticides this season also. It started the campaign from Karnal last week and held two meetings with farmers.
Vijay Setia, president, All India Rice Exporters' Association and a Karnal-based rice exporter, says that they started the campaign from Karnal three years ago following the rejection of several basmati consignments in the international market. They again started the campaign in Karnal last week.In coming days, they will educate farmers in basmati growing districts of Haryana and also in Punjab, Himachal Pradesh, Jammu and Kashmir, Uttar Pradesh and Delhi. With the help of experts from the Agricultural and Processed Food Products Export Development Authority (APEDA) and state agriculture departments, they will inform farmers about the proper use of pesticides.
This paddy season, the exporters have set a target to educate around 10 lakh farmers in the rice belt states. They will also approach one lakh farmers in Haryana. The exporters will hold seminars and distribute literature to make farmers aware about the judicious use of pesticides in their fields.
Last season, they had made aware around one lakh farmers in the rice belt states of Haryana, Punjab, Himachal Pradesh and Uttar Pradesh.
"Basmati is one of the major cash crops of Punjab and Haryana. They account for around 75 per cent of the basmati exports of the country, while other major basmati growing states such as Uttar Pradesh, Uttarakhand, Jammu and Kashmir, Himachal Pradesh and Delhi account for around 25 per cent exports. Despite this, the farmers of these states are still not much aware about the judicious use of pesticides, leading to rejection of Indian rice consignments in various countries. We will make one lakh farmers of Haryana and nine lakh farmers of Punjab, Uttar Pradesh, Himachal Pradesh, Jammu and Kashmir, Delhi and other states aware about the issue to promote rice exports as well as the health of citizens," says Setia.
Besides, the exporters will also adopt a bonus scheme for farmers to promote a judicious use of pesticides. "We will give a bonus of Rs 100 per quintal to farmers for producing good quality rice with a judicious use of pesticides. It will motivate them also," adds Setia.
"This season our main motive is healthy seeds and a healthy nursery. For a healthy nursery, we are requesting farmers to leave little space for walking after every 16 feet in their fields, which will help in disease control," he says.
"We will also distribute literature, which has been compiled by the experts of the exporters' association, among farmers during the campaign," says Ajay Sharma, MD, Lama Rice, one of the big exporters of the country. He says that the association is developing an app, which will have the mobile phone numbers of basmati farmers, to keep them updated about new initiatives. "We will also organise farmers' interaction programmes with scientists," Sharma adds.
"The export of basmati is increasing and for the last five years India has been at the top position. Iran, Saudi Arabia, UAE, Iraq, Yamen Arab Republic, USA, Oman, Qatar, and Jordan are among the top buyers of our rice. In the last financial year, India exported 14,62,234.74 metric tonnes (MT) of basmati to Iran; 902,996.69 MT to Saudi Arabia; 441,713.50 MT to UAE; 315,797.23 MT to Iraq; 206,953.83 MT to Yemen; 139,006.34 MT to the USA, 82,389.68 MT to Oman, 68,052.30 MT to Qatar and 49,486.94 MT to Jordan," says Sharma.
About the Haryana Government's new initiative of crop diversification to promote maize and 'arhar' instead of paddy, Setia and Sharma say that it will not have a big impact on the basmati crop that is cultivated in June end and the monsoons contribute a lot to its production.
Aditya Dabas, Deputy Director Agriculture, says Haryana cultivates paddy in around 13.5 lakh hectares and produces around 50 lakh quintals of it. Paddy is cultivated in around 1.70 lakh hectares in Karnal and around 9 lakh quintals of rice is produced. Basmati accounts for around 50 per cent of the total rice production in the state while in Karnal it accounts for 40 per cent of the rice production. Karnal has around one lakh landholding farmers.
Dabas says that residual pesticides and chemical fertilisers are entering the food-chain due to the cultivation of wheat and paddy without any gap.
---
We launched the campaign from Karnal three years ago following the rejection of several basmati consignments in the international market. We again started the campaign in Karnal last week. In coming days, we will educate farmers in basmati growing districts of Haryana and also in Punjab, Himachal, J&K, Uttar Pradesh and Delhi. With the help of experts from the Agricultural and Processed Food Products Export Development Authority and state agriculture departments, we will inform farmers about the proper use of pesticides. —Vijay Setia, President, All India Rice Exporters' Association
We will also distribute literature, which has been compiled by the experts of the exporters' association, among farmers during the campaign. The association is developing an app, which will have the mobile phone numbers of basmati farmers, to keep them updated about new initiatives. We will also organise farmers' interactions with scientists. —Ajay Sharma, MD, Lama Rice