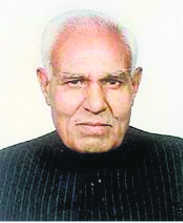 RK Malhotra
In 1992, I was editing a prestigious souvenir — 'Yeh galiyan hain Maulana 'Hali' ki galiyan'. The occasion was the silver jubilee of Adabi Markaz, Panipat, a premier literary association of like-minded Urdu poets and writers. The Markaz was already on the map of Haryana — of which any man of letters could be justly proud. Even Dr 'Javed' Vashistha, founder secretary of the Haryana Urdu Akadmi, was all praise for the Markaz. Dr Javed said at a function: "Haryana Urdu Akadmi is taller in stature only because it stands on the shoulders of the Adabi Markaz, Panipat". So, as the organiser of the Markaz, I wanted the souvenir to come up to the expectations of all concerned.
For 'messages', the very opening feature of a souvenir, I naturally looked up to those who really mattered in the world of letters. Those especially contacted for the purpose included, Dr Javed 'Iqbal', Aali Janab Zafar Abbas Quereshi, and Prof Samihullah Qureshi, Principal, Government (PG) College, Jhang (Pakistan), from across the border, and Dr Sarup Singh, the then Governor of Gujarat, Prem Bhatia, Editor-in-Chief of The Tribune, and of course, Khushwant Singh, the grand old man of letters, from this side of the border.
Khushwant, as feared, was quite straightforward in his response: "Dear Dr 'Kumar'…you will have to forgive me. I don't believe in giving meaningless messages to be printed in souvenirs. However, I wish your venture a success…" Prem Bhatiaji was considerably candid, and Dr Javed 'Iqbal' focused on his own visit (at the age of 11) to Panipat with his illustrious father, Allama 'Iqbal', to participate in Urdu poet Altaf Hussain Hali's centenary festivities in 1935.
But Dr Sarup Singh's 'message' was a 'message' that really opened our eyes. He truly opened his heart and placed his bleeding wounds all before our eyes. "Dear Dr Kumar," he wrote, "…messages you will receive in plenty. But don't mind if I speak straight from my heart and complain that Haryana has, for a long time now, given up respecting 'Hali' in the right earnest. Years ago, I had asked the Haryana Government to start again a school in Hali's name at Panipat. Before Partition, there was a popular school at Panipat named after Hali. Even today, a school is using the building of that school. But the poor 'Hali' is nowhere in the picture. Religious bad blood has butchered Hali's good name even as it has rooted out many a thing more. Just to make a show of things, we use his name at times, otherwise, where is 'Hali'? And where are his streets?"
Dr Sarup Singh added, "My words must have disappointed you all. We have picked up the habit of having an eye for the faces before our eyes and often push the grain of truth under the carpet". He wrote: "If you want to make Panipat really a Hali's town, for God's sake, create the type of atmosphere in which Hali's name may carry the respect and pride he really deserves. People should not forget 'Hali' only because he was a Mosalman".
He continued: "If you don't, mind, I may add a little more. Once Mahatma Gandhi asked Maulana Abdul Haqq: Maulana, if I like to read Hali's poem, which one should it be?" And, pat came Maulana's reply: "Bapu, you read 'Munajaat-e-bewa' (The Widow's Prayer)".
And then commenting upon the poem in the 'message', he wrote: "If you read this poem between the lines you will realise that it is over-packed with Haryanvi words and phrases, and with Haryanvi rites and ceremonies. And this is particularly because 'Hali' was a Haryanvi to the 'red-ripe'. He was not only well versed in Haryanvi idiom but was also well acquainted with its ceremonies and conventions". And we actually see that the poem transports us to the very heart of Haryana — its seasons, its weathers, its people and its prayers.
"But," wrote Dr Singh, in the last paragraph: "See the sea-change that things have undergone. With the passage of time the villages and the cities have become so very strange to each other. There seems to be a vast isthmus yawning between the rural and urban worlds. We, the standard-bearers of 'Hali' must try to bring back a kind of unity of culture which may restore the basic character of Haryana".
Hali's 'Haveli', perhaps the only memorial left in the city, has been wiped off. The site has been transformed into a small children's park, which doesn't bear even Hali's name in his own language.
(The writer is an Urdu poet, better known as Dr 'Kumar' Panipati)