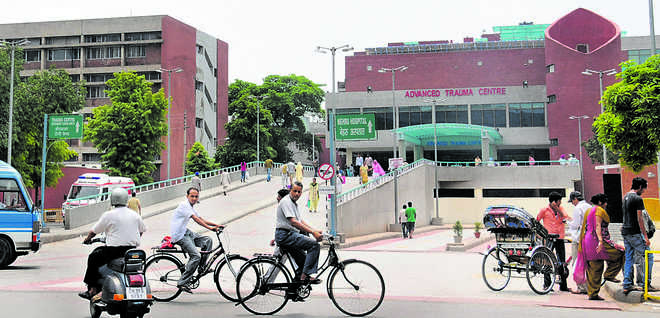 Rajendra P Jindal
A lot of enthusiasm has been witnessed in our politicians to set up many AIIMS-like institutions all over the country. Citizens have reacted with equal hubris and have even resorted to agitations over the choice of place where such an institution may be located. The idea seems to be that the All-India Institute of Medical Sciences (AIIMS) is the only institution that provides the best in health care; therefore, the more, the better.
It does not seem unreasonable to imagine a situation when our politicians will start raising the cry for locating such an institution in or near each of their respective villages. This is the way, they will argue, they can reach the best of medical care to the doorsteps of every citizen.
Let us for a while keep this moot idea aside and analyse what is wrong with our health care system. Wrong priorities: it is. Whenever one talks or writes about what ails our health delivery system, it gravitates to the high cost of treatment in private and corporate hospitals, which are beyond the reach of the majority of our population. But does this very majority, which is our main concern, always or even frequently suffer from illnesses that can be treated only in AIIMS or an expensive hospital? The answer is an emphatic no.
Most people fall prey to problems that can be (a) prevented or (b) easily managed with meagre funds at the level of primary or district level health centres. Most children are not born with holes in their hearts for which they might have to be taken to AIIMS or a corporate hospital. Majority of them fall ill because of infective illnesses such as diarrhoea or dysentery. These can be treated with boiled water, salt and sugar, which every household has. Most people suffer from typhoid, malaria and tuberculosis, which can again be prevented or treated with cheap drugs available at primary health care centres. Similarly, not many people need heart or brain surgeries; they want their hernias and piles fixed, which can be done in a district-level hospital without much cost.
Unfortunately, we have got our priorities wrong. Our priority is to copy and depend on the western system of hospitals, and build more and more of them. No steps are taken by any of the authorities to disseminate knowledge about the problems mentioned above and their easy management. There are many ways to do it and a sustained and inexpensive campaign can be carried out on TV which every household possesses. Everybody has seen the intensity with which the Pulse Polio programme was launched and executed. As a happy result, the country was declared polio free in 2013. The same sense of purpose and firmness was shown for immunisation against small pox some decades ago and the country is small-pox free.
Imagine the morbidity and the expense we are now saving regarding these two diseases. The same alacrity was not shown by the health authorities regarding the immunisation for DPT (diphtheria, pertussis or kali khansi, and tetanus). As a consequence, we still have patients suffering from these diseases, resulting in heavy expense in their treatment and some patients – children, and even adults – die too. The conclusion is that if we did not need expensive hospitals to overcome polio and small pox, we can eliminate more diseases, particularly diarrhoea and dysentery – the main killers in children – in the same manner, without any expensive hospitals.
Likewise, common diseases that afflict most adults are diabetes and coronary heart disease. Nobody needs to travel to New Delhi for their management. They can be and are being managed in district hospitals and medical colleges all over the country.
Not only diseases, but road accidents are a major cause of morbidity, mortality and the need for expensive treatment in adults. However, rather than building expensive hospitals for the treatment of trauma, we need to improve the quality of our roads and policing of our roadways for strict observance of traffic rules by the citizens, not only on the highways but also inside the cities. This is a perfect example of wrong priorities: we keep spending money on expensive hospitals for the treatment of victims of roadside trauma whereas we should spend more money on prevention of it.
The question again arises: how do we make our primary and secondary level (rural and district) health care effective and attractive, both for the patients and doctors. Here, the main responsibility is that of simple MBBS doctors who are always accused of not being willing to go to villages. Rather than having a ramshackle primary health centre in every village, if five to 10 villages can be clubbed and good primary health care established for them along with decent residence with all modern facilities (air-conditioner, etc) for the doctor, who can be offered some incentives (higher pay, preferential admission to post-graduate courses after a few years of rural service, etc), he can be persuaded to serve in villages.
If MBBS doctors are still not willing to go to villages, the only option is to create a separate category of allopathic doctors, who after three years of training can be posted in villages. This is easily and effectively possible despite the objections of the Indian Medical Association. Thus we can have a complete set-up: basic problems to be managed in primary health centres; more difficult cases can be referred to district hospitals which are staffed by competent specialists; and still more difficult problems to be referred to medical colleges. All of them should treat only the patients which are referred by their immediate lower level hospital. Most of the medical colleges, apart from some very complicated procedures, already do almost every kind of treatment – medical or surgical – which is done in the PGIs or AIIMS. Therefore, if we effectively follow our three-tier system described above, we shall be left with one per cent of the patients who need to go to the PGIs or AIIMS.
A word about institutions like AIIMS and PGIs is in order. There are many basic problems about their management. These institutes should not have to see every patient who walks in. They should take in only the patients referred (in writing) by tertiary care hospitals, i.e., state medical colleges. Unfortunately, they treat all walk-in patients who are mostly VIPs or are related to VIPs. If AIIMS and PGIs were spared all this work, they would have sufficient number of beds, enough money and ample time to treat the very uncommon, complicated or serious problems and they can focus on research relevant to our country. Rather than doing that, they are all the time eager to catch up with the West.
If we make our primary and secondary-level medical treatment attractive and effective as a priority, it will also have an unexpected advantage: it will drive the quacks out of business; a goal on which the IMA and the IMC spend half their energy and funds. People have to go to quacks because our primary and secondary-level healthcare is in a shambles. But quacks are equally good at fleecing the patients; providing at the same time only third-class medical care. We have to set our own house in order if we want to abolish quackery.
At the cost of repetition, I assert that we need to set our priorities, which are upside down, right. The PGIs already existing and the one AIIMS in New Delhi are enough. Similarly, we need not worry about the expensive private or corporate hospitals. Let them do their unnecessary tests and surgeries. Only the very rich or those who have sufficient medical insurance need them. Sadly, most doctors, on retiring from the PGIs and AIIMS join a corporate hospital.
The writer is a surgeon at Guru Gobind Singh Medical College and Hospital, Faridkot
All readers are invited to post comments responsibly. Any messages with foul language or inciting hatred will be deleted. Comments with all capital letters will also be deleted. Readers are encouraged to flag the comments they feel are inappropriate. The views expressed in the Comments section are of the individuals writing the post. The Tribune does not endorse or support the views in these posts in any manner.
Top Stories