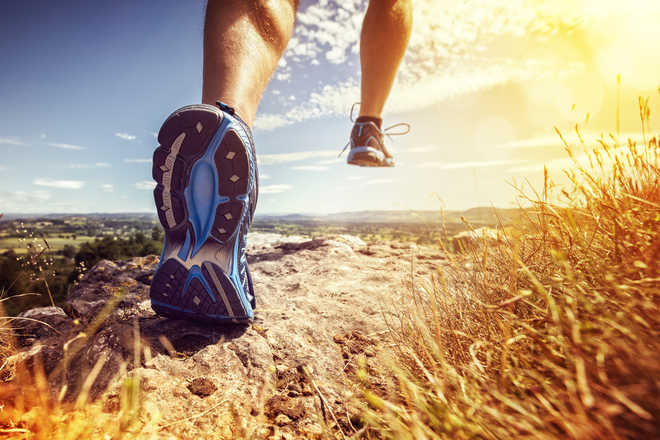 New Delhi, June 18
Reaching 40 is a milestone, signalling a time of transition from young adulthood to middle age. It is that time of life where the risk of many health conditions increases so it is necessary to keep a check on your lifestyle in more serious way, say experts.
Jai Gopal Sharma (ENT Specialist, Preventive Oncology Department), Rajiv Gandhi Cancer Institute and Research Centre, Varsha Dalal, MD, Consultant Pathologist, Lifeline Laboratories and Sargam Dhawan, Director, Planet Herbs Lifesciences Pvt Ltd listed down some guides to look after when you reach 40.

Walk more and fast: Walking is not just an exercise but for many, it is the best way to connect with your inner self. In 40's most people have more time compared to their earlier years. This is more due to settled professional and personal lives. Walking 45 minutes daily will not only rejuvenate you but will keep your metabolism rate high, helping you to burn calories and weight; hence warding all related diseases. For those already suffering from any lifestyle disease, walking will help you tame it.
Explore your family history: Your family medical history is a mirror to peek into your health risks. This is done to get more information about the diseases and conditions that run in the family. It is best to go back three generations for a complete record. A detailed family history can provide the key information to the physician. This will help in recommending the preventative measures to reduce the risk of conditions such as heart attack, stroke and different types of cancer.
Regular health check-up: It is recommended to go for regular medical examination, screening procedures and routine tests in your 40's. This will vary depending on gender, family history, overall health and personal risk factors.
Healthy eating: It is recommended to add more fibre to your diet. This will normalise the bowel movements, lower cholesterol levels, help achieve a healthy weight, maintain bowel health and control blood sugar levels.
Cardio workout: It is important to undertake some cardio activity 3 times a week for 30 minutes to stay fit and healthy. Also before starting any such routine, consult your doctor and check all your medical parameters to begin the most suitable schedule for yourself.
Know your numbers: It is important to keep a check on the levels of blood pressure, cholesterol, blood sugar, and triglycerides. Measure your waist circumference, body mass index and also the body weight. Values and numbers that are out of range may indicate the presence of, or risk for developing, heart disease, diabetes, and cancer.
Check your salt intake: It is important to keep a check on the salt intake. Too much of salt in the diet negatively impacts the blood pressure as it retains water in the body. It is this extra water that raises blood pressure. This, in turn, strains the heart, kidneys, arteries and the brain. IANS
Top News
Several centrally-protected monuments across the country lit...
Harried passengers take to social media to vent their ire at...
Lapid had stirred a massive controversy by terming Vivek Agn...
Voter turnout less than 66.75 pc recorded in first phase of ...
DigiYatra will provide seamless entry and embarkation proces...