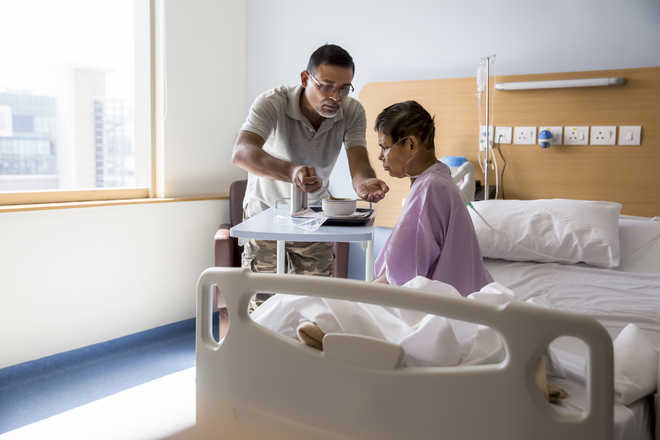 singhking99@yahoo.com
Dr R Kumar
Most of us have more than 80 per cent chance of needing palliative care (PC) in our last days. It serves as a bridge between chronic morbidity and decent demise. In extreme old age, most people suffer enormously with pain and other symptoms. The cost involved may drain away life savings of the patient or even countering debt.
Will it be ethical to authorise huge expenditure on patient-care just to prolong his/her suffering? Indulging in luxury of aggressive, unaffordable and painful care, even in the face of total hopelessness is the bane of tertiary care centres. As per LA Times, even many Americans have to depend on charity or crowd funding to meet the high costs of such care despite their medical insurance. PC may be the answer.
PC focuses on providing relief from the symptoms, pain, physical distress and mental stress at any stage of illness. It entails paradigm shift from the mindset 'treat the patient to the last breath' (since death is seen as the failure of doctors), to the acceptance of death as an inevitability'. In India, the option of PC is generally looked down upon by the patients, family and society. The treating doctors see only the disease, not the human being who has it. Pain is just a visible symptom of the suffering a patient goes through. His/her feeling of hopelessness and despair are not taken into account. While the need for PC is tremendous, the availability is poor all over the country. Barring Kerala, there has been hardly any effort to develop it across the country. There has been no teaching about palliative care in medical colleges. It is only recently that the Medical Council of India has included PC in MBBS course.
What is palliative care
According to WHO, PC is applicable early in the course of illness, in conjunction with other therapies, such as chemotherapy or radiation therapy, and also includes those investigations needed to better understand and manage distressing symptoms and clinical complications.
Kerala model: Total care, free of cost
The Institute of Palliative Medicine (IPM), located in the Medical College, Kozhikode, Kerala, is the pioneer of palliative care. It is the first WHO Collaborating Centre for Community Participation in PC. The institute began as a small unit in 1993 as Pain and Palliative Care Society which in 1999 graduated to 'Neighbourhood Network in Palliative Care' (NNPC). The NNPC, with army of volunteers and support of government funding for community-based 260 units, has earned accolades for providing total care, free of cost. It involves not just relief from medical symptoms, but also provides emotional, social and financial support, bereavement counselling and rehabilitation of patient or family.
It has many remarkable cases of community volunteers mobilising resources to provide financial support to patients and their families in many ways — supporting children dropping out of school, providing food kits to the destitute, even fulfilling a patient's dying wish to get his daughter married! It culminated into Palliative Care policy, Government of Kerala 2002.
The Kerala Government came out with another landmark policy in 2008, mandating that doctors at primary health centres must be trained in palliative care, and that these centres must work in collaboration with the community organisations. It should also include relief from a range of chronic conditions such as geriatric issues, heart failures, chronic lung diseases, mental health, chronic renal conditions, advanced neurological ailments and others that may leave a patient bed-ridden, besides cancer and AIDS patients. Kerala is the first state in India to relax narcotics regulations to permit use of morphine by palliative care providers.
India is staring at an epidemic of an ageing population and may nearly have 20 per cent population of 60 years and above by 2050. The country will have 34 crore people above 60 by 2050, which would be more than the total population of the US. In light of these scary numbers, PC seems to be the need of the hour.
PC explained
n Provides relief from pain and other distressing symptoms
n Regards dying as a normal process
n Intends neither to hasten nor to postpone death
n Integrates psychological and spiritual aspects of care
n Support patients to live actively
n Support system to family cope with the patient's illness and bereavement
n Enhances quality of life, and positively influences the course of illness
n Applicable early in the course of illness, before the diagnosis is made or after the diagnosis, pending regular treatment
n PC for children is total care of the child's body, mind and spirit
n It can be provided in community health centres and homes.
— The writer is president, Society for Promotion of Ethical and Affordable Health Care
Top Stories
Cities