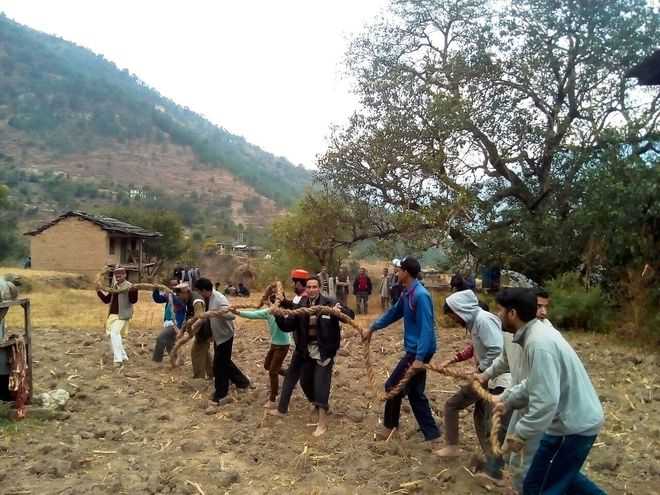 Dipender Manta
Tribune News Service
Kullu, November 19
Keeping the tradition alive the traditional "Buddhi Diwali" festival of Nirmand village in Kullu district yesterday begun with fervor in which locals participated with great enthusiasm.
Across India, Diwali was celebrated on October 19, while villagers of Nirmand are set to celebrate its age-old tradition after one month of the Diwali. The festival, which began yesterday, will continue till November 20.
During the festival, people dance and sing folklore related to the epic Mahabharata through the night in front of bonfires.
Festivities of the 'Buddhi Diwali' begin on the first 'amavasya', or new moon of the lunar half after the regular Diwali every year.
Yogesh, a native of Nirmand village, said that the festival was celebrated to commemorate the killing of the demons, Dano and Asur, who resided there in form of snakes.
As per the tradition, villagers took animals to a nearby temple where the sacrificial ceremony was performed on 'amavasya'. The severed head was offered to the deities and the meat was taken home for cooking but after the directions of the Himachal Pradesh High Court, villagers shunned the animal sacrifice and offered coconut to appease the deity. Joginder Shukla, another resident of the village, said, "According to the ritual, people dance during the daytime forming a long chain with a huge rope. Outsiders are not allowed to take part in the dance activity".
In the series of the customary festivals in the district, 'Buddhi Diwali' commenced on Saturday night. During this festival, villagers make Pahadi cuisines along with MOODA (mixture of wheat grains and bhang).
Top News
Teams conducting raids to arrest the BJP leader
Jaishankar meets UN Secretary-General Antonio Guterres and P...
Canada is home to about 770,000 Sikhs - the highest populati...
Canada has alleged that Indian authorities were behind Nijja...