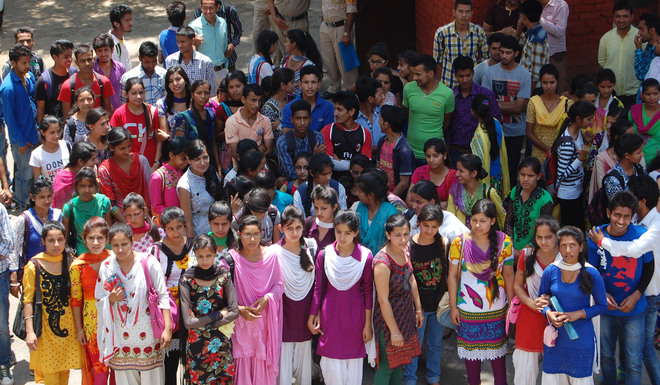 Lalit Mohan
Tribune News Service
Dharamsala, May 19
The alleged rape of a Dharamsala Government College student, who has not yet been identified, triggered a protest march by students.
The students, most of them belonging to the ABVP, were demanding action in the case. They raised slogans against the state government and the local administration and alleged that the authorities were trying to hush up the case as the accused belonged to influential families.
The students initially protested in front of the Deputy Commissioner's office and then proceeded to the office of the SP Kangra. Before the office of the SP, they had an altercation with the police who tried to stop them at the gate.
After the protest, the students alleged that they did not have any faith in the police and inquiry into the case should be handed over to the CBI.
A campaign has been started on the social media to get justice for the unidentified girl who is the victim in alleged rape case.
SP, Kangra, Kapil Sharma, addressing a press conference here this evening, said police officials had been trying to locate the victim ever since the rumours went around in the town that some college student had been raped a few days ago. However, till date nobody had come forward before the police to register a complaint in the matter.
"We have also not been able to identify the victim. The Principal of the college, in a statement before the police, said a woman came to his office and complained that her sister had been molested. He also failed to identify the victim or sister," he said
The SP said the police had taken into possession the CCTV footage of the college and was trying to identify the victim or her sister to know about their whereabouts. The police was contemplating action against those who were spreading rumours on the social media, the SP said.
He said if some student wanted to come forward with some information, the police would keep his or her name secret.
Principal of the college RP Chopra, talking to The Tribune, said the college authorities had informed the police the day the sister of the unidentified student came to him and alleged that the molestation had happened. The college administration was cooperating with the police and was keen to find out if there was any truth in the rumours going around in the case.
A college girl has also admitted on camera that the sister of the victim told her that about the incident.
Top Stories