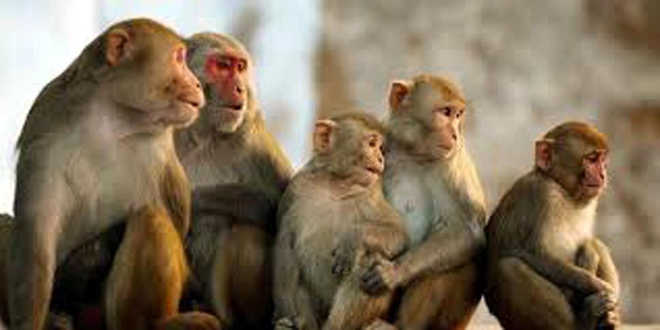 Pratibha Chauhan
Tribune News Service
Shimla, September 10
Even as 100 monkeys have been found dead in different locations of the town, the Forest Department remains clueless about the cause of such large-scale mortality.
The deaths were reported by people to the Shimla Municipal Corporation (SMC) in Chhota Shimla, Benmore and Vikasnagar, besides other localities. The SMC, on its part, informed the wildlife wing of the Forest Department so that there could be proper disposal of the carcasses.
Even though simians have been declared vermin in Shimla, it is still not known whether they were shot by locals or died due to some disease in the last fortnight.
The Union Ministry of Environment and Forest had given permission for the killing of monkeys on July 16, 2019, as they were biting people and causing immense damage to fruits and agricultural crops.
"The SMC wrote to us about the bodies of monkeys being found, which they have disposed on their own," confirmed Divisional Forest Officer Rajesh Sharma. "However, we will send the body for investigation only if we get a sample, which has not been given to our department by the SMC or found by our staff," he added.
It was on July 1, 2019, that a notification had been issued declaring monkeys vermin within the SMC for one year. The first time monkeys were declared vermin in 2016. However, not a single monkey had been killed by the locals. Even then wildlife officials had said killing monkeys was not the mandate of the department and people would have to kill them wherever they were creating problems.
Though monkey population estimation in Shimla had put their figure at a mere 1,700 in a total of 49 troupes, but most residents question this figure. As per the survey, which covered 31 of the 34 wards of the town , the highest number of 218 monkeys was found in Jakhu, followed by 125 in Benmore, 111 in Bharari, 100 in Totu, 75 in Nabha, 73 in Ram Bazaar and 69 in Malyana ward. It was estimated that each troupe had about 25 adults, including 15 females. Also, the highest number of nine troupes were spotted in Jakhu, three in Totu and two each in Nabha, Benmore, Malyana, Chhota Shimla and Khalini.
Wildlife experts had pointed out that the monkey figure for Shimla indicates that their estimated density is about 0.75 group per sq km, which is very high. This means that there is at least one troupe of monkeys in each sq km with each troupe having about 30 monkeys, he added.
Top News
Modi: Reduction in train mishaps since 2014
The Kabul-born Durani played 29 Tests
Notably, Shah's tour of Sasaram in Rohtas district has been ...
Bodies of eight persons were found on Friday in a marsh on t...
'Plot to impose President's rule in Punjab'