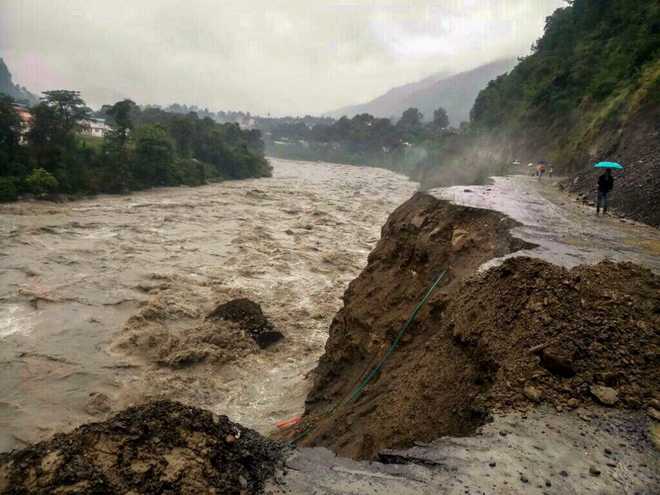 Dipender Manta
Tribune News Service
Mandi, September 25
In the rescue operation launched on Tuesday, 150 stranded tourists, 50 from IIT Roorkee and five faculty staff of IIT-Mandi, were evacuated from Koksar, while five were airlifted from Lahaul.
One person died in the Lahaul valley because of snowfall.He has been identified as Budhi Singh of Mandi district.
The state government pressed two IAF choppers into service to lead rescue operations for the stranded people in the Lahaul valley.
Chief Minister Jai Ram Thakur, Lahaul-Spiti MLA and Agriculture Minister Ram Lal Markanda conducted an aerial recce to take the stock of the situation on the Manali-Leh highway, near Baralacha and Sarchu, where a large number of vehicles were found trapped on the roadside. Later, they both moved towards the Chandertal lake to assess the situation. Five Himachal Road Transport Corporation (HRTC) buses were trapped at Losar and four buses near Koksar and Gramphu. Similarly in the Pangi valley, four buses were stranded at Prthi, Shoon, Rei Mindal, Pregran and at a few other places.
Mangal Chand Manepa, Regional Manager, HRTC, Keylong, said all crew members and passengers were safe. The BRO pressed its workforce and machinery in service on Tuesday morning to clear snow from Koksar towards the north portal of the Rohtang tunnel at Sissu. Similarly, the BRO pressed its workforce and machinery from the Manali side to connect the south portal of the Rohtang tunnel at Dhundhi.
Col AK Awasthi, Commander, BRO, said, "There was more than four feet snow on the road from Koksar ahead up to Sissu on the 15-km-long stretch. Similarly, the road was blocked from the Manali side towards the south portal of the tunnel at Dhundhi. We have deployed BRO workforce and machinery to connect the road between Manali and Koksar. We have rescued 50 persons of IIT-Roorkee and five faculty staff of the IIT Mandi at Sissu, while 150 persons were evacuated via Rohtang tunnel," he said.
---
Stay calm: BRO to stranded tourists
The BRO Commander has urged those stranded to remain calm until the road up to Sarchu and Kaza is restored. Workers are clearing the Manali-Leh highway up to Sarchu via the Baralacha Pass and towards Kaza via the Kunzum Pass. The road will be opened in a day or two. More than 256 vehicles arestranded in Lahaul-Spiti.
---
Manali highway restored after 36 hours
Mandi: The Chandigarh-Manali highway was restored via Dwada between Mandi and Kullu district on Tuesday morning after a gap of 36 hours. It had been closed since Sunday. Due to heavy rain, the 300-metre stretch of the road at Dwada had been under the Beas water since Sunday, forcing the authorities to halt traffic on this route. On Tuesday, weather became pleasant in Mandi and Kullu districts and the water level of the Beas receded considerably. The district administration allowed the traffic on this road, giving respite to those stranded in Kullu or Mandi. Deputy Superintendent of Police Hitesh Lakhan Pal said, "We are monitoring the situation minutely." In Kullu district, people also took a sigh of relief. The incessant rain had caused havoc and the main road leading to Manali was damaged. Only light vehicles were allowed to move between Kullu and Manali via alternative route because these roads were not fit for the movement of heavy vehicles. Deputy Commissioner, Kullu, Yunus Khan and Superintendent of Police Shalini Agnihotri were on the job to lead the rescue and rehabilitation work. TNS
---
Chamba suffers Rs 50-crore losses
Chamba: District Magistrate Harikesh Meena on Tuesday said public and private property, including roads, irrigation, water and electricity supply, worth Rs 50 crore had suffered damage in the district due to heavy rain across the state for the last three days. He said 108 roads in the district were blocked at various points due to massive landslides. Of these, 44 roads had been cleared of debris and opened for vehicular movement. Restoration work on the remaining roads was in full swing as JCBs and bulldozers were working round the clock. The Tissa to Seikothi-Jhajjakothi road was likely to be opened for transportation services by this evening, the DM said. He said 15 houses, including two cowsheds, in the district were completed destroyed while 21 houses suffered partial damage. OC