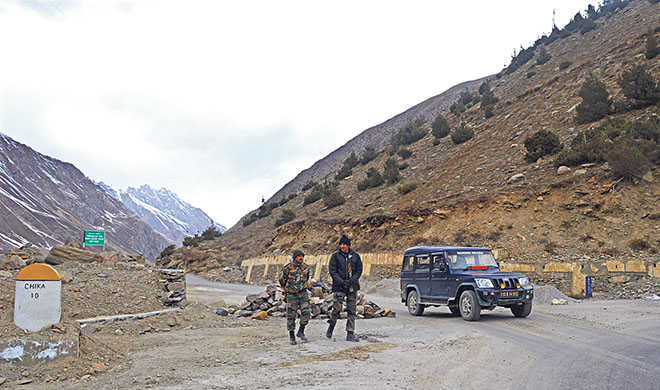 Vijay Mohan
Tribune News Service
Darcha, October 21
Almost two decades after Kargil came into limelight following a limited conflict with Pakistan over intruders transgressing the Line of Control, the strategically important town in Jammu and Kashmir has got a third axis of approach via Manali.
A trekking foot trail that connected Darcha in Lahaul valley of Himachal Pradesh to Padum in Zanskar valley of Jammu and Kashmir across the 16,600 feet Shinku La pass has been widened and converted into a motorable road by the Border Roads Organisation (BRO).
Darcha lies 32 kms ahead of Keylong on the Manali-Leh highway. The distance from Darcha to Padum is 148 kms. Padum is already connected to Kargil with a single-lane black top road maintained by the state government and it takes about six to eight hours to cover the 230-km distance.
"Connectivity between Padum and Darcha was achieved in September when dozers from both sides met at Lakpan village, about 12 kms ahead of the Shinku La, marking a significant milestone," Col AK Awasthi, Commander, 38 Border Roads Task Force, who is overseeing the works, said.
"Formation cutting on both sides has been done and further road widening is being undertaken at places, allowing BRO vehicles to drive across the pass," he added. This would also have socio-economic spin-offs for the locals.
Till 1999, the primary approach to Kargil was from Jammu via Srinagar through the Zojila Pass, with a route from Manali via Leh across several high passes being the second alternative. Though this route has since been strengthened and its use has increased, it remains closed for six months a year due to snow.
Work on black-topping the Darcha-Padum link will begin next summer. A proposal to construct a tunnel under the Shinku La pass is under consideration to provide all-weather connectivity. "The pass remains closed in winters and we get only a limited working period in summers," Lt Col DS Bisht, Officer Commanding 70 Road Construction
Company that is constructing part of the road that lies in Himachal, said.
"Reduced machine and material efficiency due to low temperatures and rarified air, cutting through rock faces as high as 15 metres and no telecommunication in this part were among the challenges that we faced," he added.
Another 260-km-long road is being built from Padum to Nimu, near Leh, providing an alternative approach to Ladakh. According to BRO officials, a stretch of about 110 kms has been constructed so far that can accommodate jeeps. The Himachal part of the works is being executed by Project Deepak, while the Jammu and Kashmir part is the responsibility of Project Vijayak.
Following the 1999 Kargil conflict which exposed serious gaps in border infrastructure and communication, plans were conceived to build new roads as well as strengthen the existing road network in remote areas that would enable rapid troop deployment. This would also benefit the civilian populace by bringing them closer to the mainstream.
Top News
Counting of votes will take place on May 13
Faizal, who represents Lakshadweep, had moved the Kerala Hig...
Pro-Khalistani activist likely visit to Hoshiarpur last nigh...