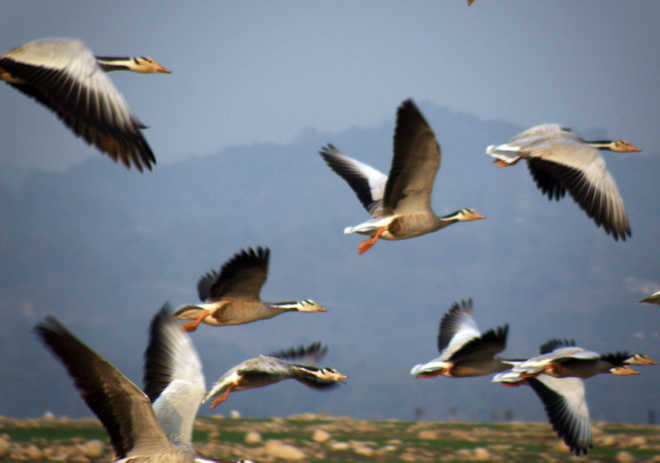 Lalit Mohan
Tribune News Service
Dharamsala, February 25
The high concentration of migratory bird bar-headed geese in the Pong Dam wetland area has helped the International Union for Conservation of Nature (IUCN) to revise data on its population in the wild. About two years ago, the bird was kept on the endangered list by the IUCN and its population was estimated to be about 60,000.
Last year, about 43,000 bar-headed geese were recorded at the Pong Dam wetland. After the data was submitted by the Wildlife Department of the state, the estimates regarding its population in the wild was revised to above 1 lakh and it was placed in the least concerned variety by the IUCN.
This year in the census conducted by the department in collaboration with experts from Britain and the Bombay Natural History Society (BNHS) last month, an estimated population of about 71,000 bar-headed geese was recorded in the Pong Dam wetland.
According to Assistant Conservator, Wildlife, in Dharamsala, DS Dadwal, who has been studying the migratory birds visiting the Pong Dam wetland for more than a decade, said this was the biggest number of the birds to have been recorded anywhere in India.
With this estimate, the number of the bird is likely to be revised by the IUCN, he said.
Dadwal said the number increased in the Pong Dam wetland this year due to ideal conditions created for their habitat. This year, the BBMB authorities released water from the Pong Dam and many islands in the lake emerged.
The department also restrict sowing of fields along the Pong Dam lake in certain areas. Due to it, the large number of geese that feed on grass and rest in the islands decided on staying in the lake instead of migrating further into other wetlands in India, Dadwal said.
He further said the birds that migrate in winters from Tibet, Mangolia and Russia are found even in South India. However, over the years, the population of the bird has been increased in the Pong Dam wetland. This indicates that the birds are finding conditions in the lake ideal for spending the winter months and are not migrating to other parts of the country, Dadwal said.
A book on flora and fauna of the Pong Dam wetland, "Avi Fauna of Pong", authored by Dadwal, was released last month. The book is result of painstaking work of Dadwal. It consists of photographs of various rare varieties of migratory birds that visit the Pong Dam area. The book explains about 200 species of migratory birds that visit the Pong Dam wetland.
Top Stories
Classes 5 & 8 students to be promoted