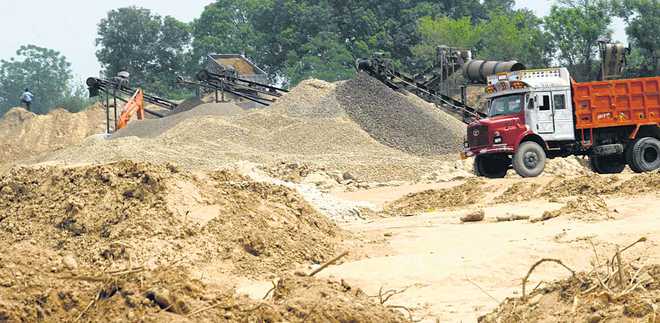 Shimla, May 14
Over 9,303 cases of illegal mining were detected and fine worth Rs 4.01 crore recovered in connection with illegal mining activity in the state in the recent past.
A state government spokesperson stated that the mining and other concerned departments had to file FIRs in case of damage to the properties of Public Works Department, Irrigation and Public Health and Revenue Department due to illegal mining activity. The government has delegated powers to 39 officers of different categories of various departments like revenue, HPPWD, IPH, industries, BDOs, RTOs.
Minor Mineral Rules had been notified to streamline the process of exploiting minor minerals apart from providing deterrent penalties of prosecution and fine up to Rs 50,000 for various violations. Besides, a sub-divisional level flying squad has also been constituted under the chairmanship of concerned SDM, having DSP and ACF its members to conduct raids against illegal mining.
All the Deputy Commissioners have also been asked to convene monthly meetings of all the duty holders to review the action taken by them against illegal mining. They have also been asked to constitute the committees of HPPWD, Revenue and Forest Officials since most of the routes leading to the riverbeds have been carved out illegally on the forest or government land and the mineral so extracted is being stacked on the acquired width of the PWD roads.
Deputy Commissioner will also ensure thorough surprise inspections that no diesel-generated sets are used illegally by crusher owners. In the interest of environmental and mineral conservation, the state government has decided to permit use of raw material and waste generated from developmental activities such as construction of roads, tunnels and power projects etc. by stone crusher units. — TNS