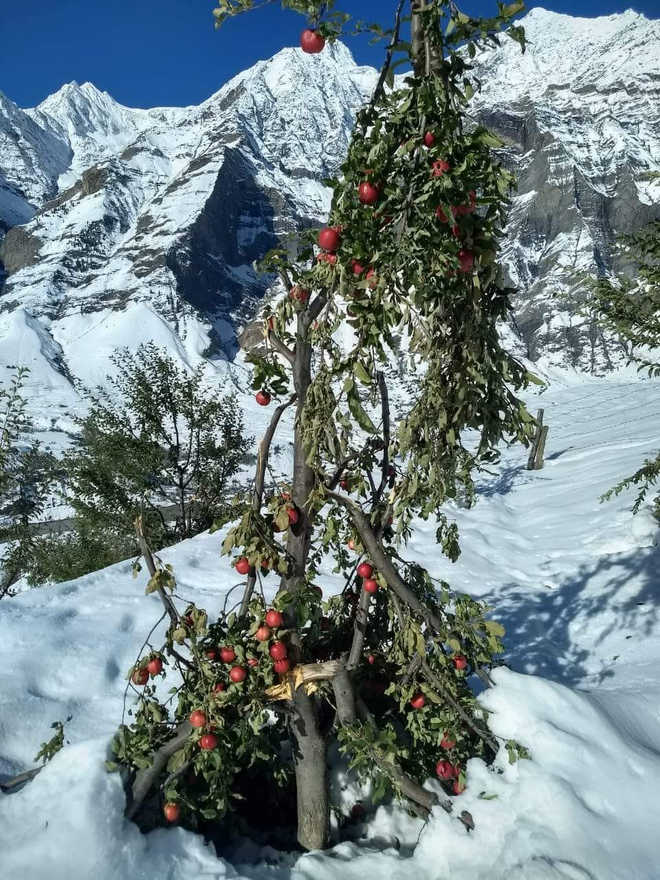 Kuldeep Chauhan
Tribune News Service
Shimla, October 2
The untimely heavy spell of snow has caused a huge loss to apple trees and fruit and vegetable crops in Lahaul-Spiti district, leaving farmers in despair.
"A big chunk of apple trees, broccoli, cauliflowers, iceberg lettuce and potatoes have perished in snow", said Suresh Vidyarthi, a farmer from Udaipur in the lower Pattan valley, the first area to start apple cultivation in Lahaul in the 1990s.
"Due to climate change, we have been facing freak spells of snow round the year", said Amar Singh, another farmer.
According to the preliminary estimate, more than 95 per cent of apple trees and crop have perished in the recent untimely snow, said Ashwani Chaudhary, DC, Lahaul-Spiti.
"We are assessing the damage, but most of the apple trees and fruit, cauliflowers, harvested potato crop have been destroyed in snowfall in the valley", he added.
From Mudgram in the lower Pattan valley to Jispa village in Bhaga and Shashin village in the Chandra valley, the orchards present a picture of broken apple trees with fruit either dropped on the ground or hanging on broken branches, said Duni Chand, a farmer from Shashin.
The freak spells of snowfall have made apple cultivation in the high altitude difficult as there is no remedy to take care of the natural disaster, said Dr ML Dhiman, Director, Horticulture.
The apple trees had suffered a huge damage due to heavy load of snow piled up on the leaves and fruit, he added.
Vice-Chancellor Dr YS Parmar University of Horticulture and Forestry, Prof H C Sharma, said the farmers needed to diversify to walnuts, sea buckthorn and they needed to be trained to grow shorter apple trees with sturdy branches.
Agriculture Minister and Lahaul-Spiti legislator Dr Ram Lal Markanda, who has been taking stock of losses and monitoring the rescue and restoration works in the districts, said, "Farmers have been hit as the apple trees and vegetable crops have perished in the snow. The losses are being assessed and only after communication, power and road connectivity is restored, we can get clear picture of the losses in the district".