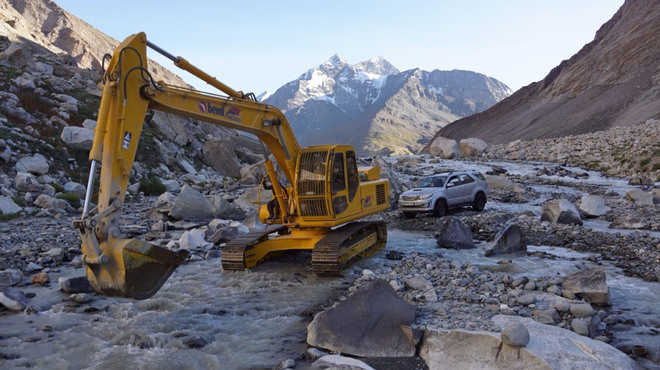 Dipender Manta
Tribune News Service
Mandi, September 8
Three residents of Manali have entered the Zanskar valley of Leh crossing 16,600 feet Shinku La from in Lahaul in a vehicle, bringing cheer to people of the valley. It is for the first time when any vehicle entered Padum village from Lahaul, which has no road facility for many years, sources said.
The road leads to the Zanskar valley from Darcha through Shinku La, which is underconstruction.
It was the dream of Chhutlim Chinjore of the valley to construct a road from Darcha to Shinku La. Taking initiative he started construction of the road on his own. He sold his whole property. Later, the construction was taken over by the Border Roads Organisation.
The Shinku La connects the Kargil region from Lahaul and the BRO is planning to construct the road to Kargil. The detailed project report was submitted to the Centre for approval.
Suresh Kumar, Preetam Chand and one more youth told The Tribune that the road was in bad shape from Darcha to Padum village, which was a risky affair. It would take some time to accomplish the task. People were advised not to take the route until the BRO approved it.
"Our vehicle got stuck in the middle of the road but the BRO helped us to move ahead. After reaching Padum village, we were excited and got warm welcome from villagers. Now, villagers are hopeful that they will be able to come easily from Lahaul," they added.
The journey is adventurous. After completion of the road, the region may be another tourist destination in Lahaul, where people will be able to enter the Zanskar valley via Shinku La.
The BRO confirmed that three youths travelled from Shinku La to Zanskar.
Work underway
Chhutlim Chinjore of the valley started the road construction from Darcha to Shinku La on his own
He sold his property for the purpose
Later, the construction was taken over by BRO
Road is under construction
Top News
According to Rushdie's agent Andrew Wylie, nerves in his arm...
Natwar was Minister of State for External Affairs when Rushd...
All the four employees were dismissed from service under Art...
The exam was postponed for 11,000 candidates to accommodate ...
Had submitted resignation in Jan 2019 and floated his own po...