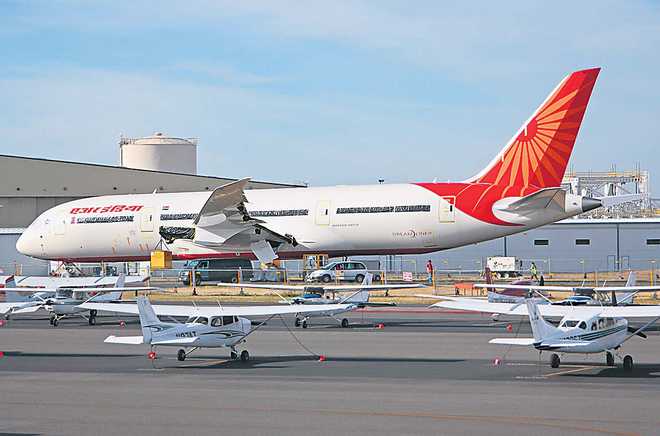 Lalit Mohan
Tribune News Service
Dharamsala, March 31
Long weekend due to a holiday for Good Friday and the Thank You India event organised by the Central Tibetan Administration (CTA) brought hordes of tourists to Dharamsala in the past few days. However, this spurt in tourists also brought in steep hike in airfares to Dharamsala.
Sanjay Sharma, a HPCA spokesperson, who wanted to fly to Delhi on Thursday said the airfare of both Air India and SpiceJet that operate flights between Delhi and Dharamsala did not come down from Rs 19,000 (for a one-way ticket) due to which he had to cancel his trip.
Tourists who flew in from Delhi to Dharamsala this week said they had to shell out up to Rs 18,000 for a SpiceJet flight. Sources here said rates of the Air India flight to Dharamsala peaked to Rs 19,372 last week.
Sanjeev Gandhi, general secretary of the Upper Dharamsala Hoteliers' Association, said in case the airfares to Dharamsala were not reduced it could hit tourism in the area. He said most of the tourists were now taking flights to Chandigarh and Amritsar and coming to Dharamsala by road due to the high fare. The airfare from Delhi to Amritsar ranged between Rs 6,000 and Rs 7,000. However, airfares to Dharamsala were unreasonably high, he said.
Deepak, a travel agent, said in the lean tourist season, the airfares from Dharamsala to Delhi ranged upto Rs 4,000 and Rs 5000. However, in the peak tourist season, the aviation companies increase the rates to make unreasonable profits. It goes upto Rs 22,000 for one way trip from Delhi to Dharamsala. Travelling to international destinations like Singapore, Thailand and Dubai was cheaper than coming from Delhi to Dharamsala, he said.
Anurag Thakur, the BJP MP from Hamirpur, said the Gaggal airport in Kangra district was the only airport in Himachal that could be expanded. The Union Government had asked the state government to acquire land for the expansion of Gaggal airport. However, the previous Congress government had expressed its inability to acquire the land due to which the expansion of airport could not be carried out, he said.
Anurag Thakur said the airfares for Dharamsala remained high as bigger planes could not land here. Just 70- seater planes could land here due to which the air fares remained high, he said.
Besides the Gaggal airport in Kangra, there are two more domestic airports in Himachal — Shimla and Kullu. The sources here said the Airports Authority of India had demanded about 500 acres in Shimla for expansion of the airstrip. However, such a huge chunk of land was not available in the area. The present strip of the Shimla airport can handle just about 42-seater planes. At present, besides Air India no other company is maintaining 42-seater planes. Sources here said the companies did not maintain 42-seater planes as these were economically unviable.
The Kullu airport was located between two hills and it was very difficult to expand it, so the bigger planes cannot land there, the sources said.
The Himachal Government had written to the Government of India that flight rates to Himachal should be subsidised as was being done in Jammu and Kashmir and Northeastern states. However, the demand has not been accepted by the Government of India so far.
Top News
In April 2016, the then CIC M Sridhar Acharyulu had directed...
The slab constructed on top of an ancient `bawdi' or well co...
He is serving time in a road rage case dating back to 1988
Clashes broke out between two groups in the Kazipara area of...
The govt had earlier given exemption of 2.25 per cent in sta...