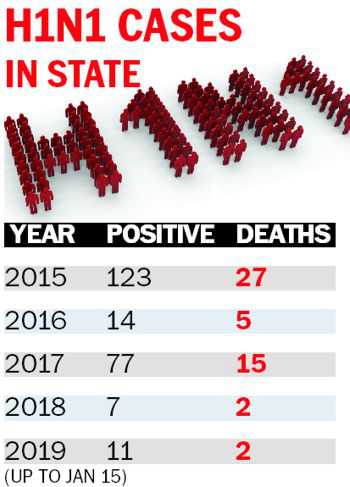 Kuldeep Chauhan
Tribune News Service
Shimla, January 16
The health authorities have sounded an alert across the state following the death of a 16-month-old girl and a 65-year-old man, both from Una district, due to swine flu.
While the girl died on January 12, the man succumbed to the deadly virus on January 15. Both were admitted to the PGI, Chandigarh, in a critical condition. Nine other persons, mostly from Kangra district, have tested positive for the virus so far.
Chief medical officers and medical superintendents have been directed to keep a strict vigil on patients, especially children and elderly, suffering from cough and high fever for at least five days.
According to information, Kangra is the worst affected where eight positive cases have surfaced so far, followed by Una two and Solan one.
Health officials said all three districts shared border with Punjab, where a number of positive cases had been reported this year.
The officials said the samples of 72 suspected patients were taken, of which 11 tested positive for the deadly virus.
Dr Sonam Negi, state surveillance officer, said while two died of the flu, the other patients had been given anti-viral drugs. Their condition was now stated to be normal.
She said as per the protocol, the families of these patients had also been provided required treatment and were under surveillance.
Medical Superintendent, IGMC, Janak Raj said no case of swine flu had been detected at the IGMC so far. "We are taking all precautionary measures. Patients have been advised to wear masks and avoid direct contact with those suffering from fever. An advisory has been issued urging people to avoid crowded places," he added.
Dr Sonam Negi said the flu had gripped the lower region. "We have enough stock of medicines for the flu in medical colleges and hospitals," Dr Sonam said.