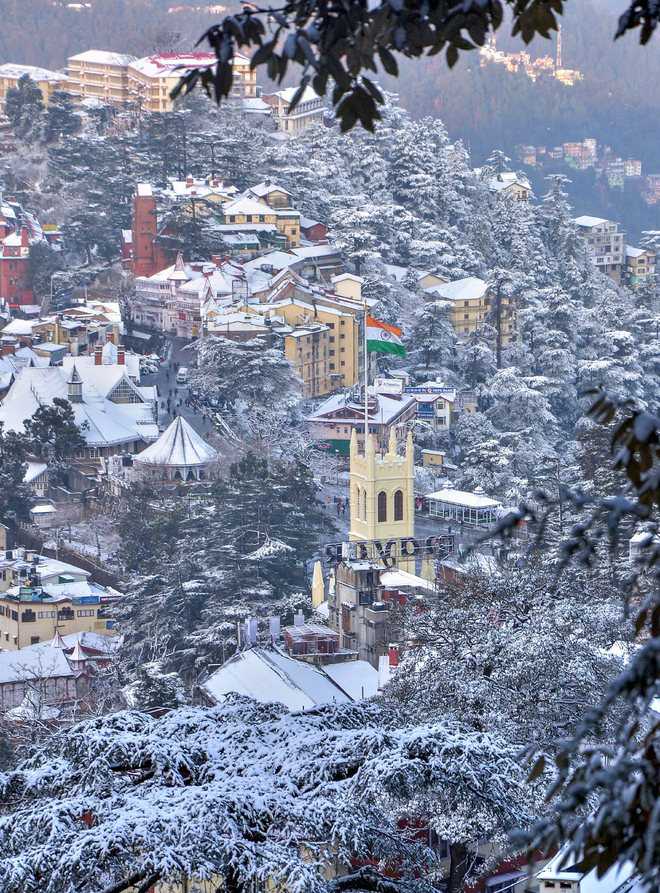 Tribune News Service
Shimla, January 13
Shimla, Kufri and upper areas received another spell of snowfall on Sunday. The HRTC bus service remained suspended on the routes leading to Narkanda, Chopal, Rohru und Jubbal. Meanwhile, the movement of vehicles was restored on the Shimla-Kufri-Fagu-Theog-Narkanda road in the afternoon.
In Kalpa and Keylong, Lahaul-Spiti, normal life has been out of gear for the past three days.
Tourist vehicles going towards Kufri, which recorded 3 to 4 inches of snow in the morning, got stuck on the Dhalli-Chharabra-Kufru-Fagu stretch. But chaos and chill did not deter revellers, who celebrated Lohri on the way to Kufri. This led to a long traffic jam on the road.
Not only tourists, hoteliers too were cheered by the snow as the occupancy in hotels surged to 50 per cent on Sunday. A truck, stuck in snow near Kufri, added to the traffic chaos. The traffic police could not do much, owing to the gridlock.
HRTC bused to Rampur and Kinnaur were diverted via Basantpur in the morning as the Shimla-Narkanda-Rampur highway was blocked. "No vehicles or buses were allowed to ply on roads leading to Narkanda, Rohru and Chopal as these have turned slippery," Anil Sharma, regional manager, HRTC, Shimla, said.
He said six HRTC buses with no passenger on board remained stuck at different places due to snow.
The HRTC restored its services till Kotkhai and hoped to start all buses by Monday, he added. Shimla DSP Pramod Shukla said the traffic on the Shimla-Kufri-Fagu highway had been restored and the road beyond Narkanda opened. The road beyond Kharapathar had also been thrown open to commuters, Sharma said.
Manali with 10 cm of snow and Dalhousie with 30 cm of snow recorded the highest snowfall in the state. Shimla recorded 3.5 cm of snow, Kufri 8 cm, Chail 2.5 cm, Kalpa 8 cm and Keylong 9 cm.
The minimum temperature plunged to 0.2 degrees C in the city and - 3.4 degrees C in Kufri. Keylong was the coldest with -11.0 degrees C. The Met Department has predicted dry weather for two days, while a fresh Western Disturbance may cause rain or snow at isolated places in the lower, middle and higher hills on January 16.
Khajjiar hotels jampacked
Dalhousie: Khajjiar-Dalhousie witnessed fresh snowfall on Sunday. Bharmour, Pangi and Chamba also wore a white mantle. Following heavy snowfall, Himachal Pradesh Tourism Development Corporation (HPTDC) hotels have managed to attract a large number of tourists. HPTDC manager Vikas Datta said Khajjiar and its surrounding areas had recorded 20 cm of snow. The low-lying areas were lashed by heavy rain on Saturday night, which is beneficial for the rabi crop. Buses to Khajjiar, Bharmour, Langera and Satrundi did not ply, with residents remaining indoors. — OC